Pre-Vet Club Partners with Humane Society for Dog "Field Trip Days"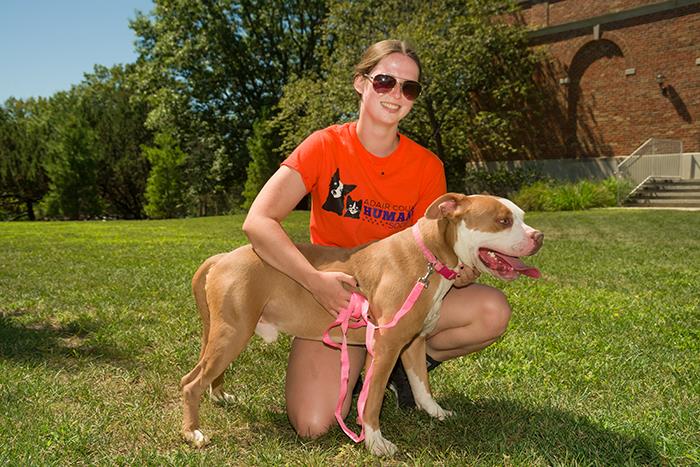 King, an American Bulldog from the Adair County Humane Society, stays close to Truman student Sydney Donath while visiting campus. Members of the Pre-Vet Club can take dogs from the Humane Society on field trips in the Kirksville community in an effort to socialize the animals before they find their forever home.
The Friday before Labor Day Weekend, visitors to campus may have noticed a bulldog on the mall living his best life – and it wasn't Spike.
King, an American Bulldog from the Adair County Human Society, played in the fountain, rolled around in the grass and happily greeted everyone who came close enough to give this good boy some pets. King was participating in a "Field Trip Day" to campus thanks to Truman student Sydney Donath of the Pre-Vet Club.
As more time has passed from the pandemic, the Pre-Vet Club has resumed its partnership with the Humane Society. The Field Trip program is a new initiative started in the spring. Club members who have established a relationship with the Humane Society are eligible to take dogs on field trips in an effort to socialize the animals while they wait to find their forever home.
"This is an amazing opportunity for the dogs, as it gives them some time out of the shelter environment, while also allowing everyone to see the dog's true personality or any personality quirks," said Donath, who is president of the Pre-Vet Club.
Field trips typically consist of club members taking a dog around Kirksville to socialize with the community and see new places. Activities can include walks around campus or Thousand Hills, as well as trips to PetSmart, and sometimes getting a treat at Sonic or Scooter's Coffee.
Donath, a senior agricultural science major with minors in equine studies, animal science and biology, has been a member of the Pre-Vet Club since her first year at Truman. As president of the organization, she sought to revive some pre-pandemic activities, as well as create new endeavors like the field trips.
"When I became president of the club, it was very important to me and the rest of the executive board that we re-establish the collaboration between the Humane Society and the club," she said. "My scholarship job is with the Humane Society, so I had an established relationship with the shelter manager, Missy Decker. This is our second semester doing these field trips. It has been a big success as it brings awareness to the Humane Society and the variety of dogs that they currently have."
In addition to field trips, Pre-Vet Club has helped organize and run an adoption event for the Humane Society animals at PetSmart, and members have helped with fundraising events such as "Pancakes for Pups" and "Pints for Pups."
"Our relationship with the Pre-Vet Club is vital to our organization," Decker said. "This is a group of students with the same passion for animals, and also, a new perspective on doing things. Without them programs like Field Trip Days would not be possible."
Donath said some of her favorite things about collaborating with the Humane Society are connecting with the Truman and Kirksville community and working with a variety of different dogs. That relationship can make a big difference to the animals in the shelter, and King is a perfect example. He found his forever home not long after taking his field trip to campus with Donath.
The Pre-Vet Club will continue to support the Adair Humane Society and their events. The club's goal this semester is to have more connections with the Truman and Kirksville community. Club events and Humane Society events will be promoted on the organization's Instagram, @tsuprevetclub.
The Humane Society is always looking for volunteers to help out at the shelter and socialize both cats and dogs on site. Anyone interesting in volunteering their time can contact the shelter at 660.665.8038. For more information about volunteering or donating, visit
adairhumanesociety.org
. To see animals available for adoption, check out the
Adair County Humane Society Facebook page
.