Make Plans Now for On-Campus Housing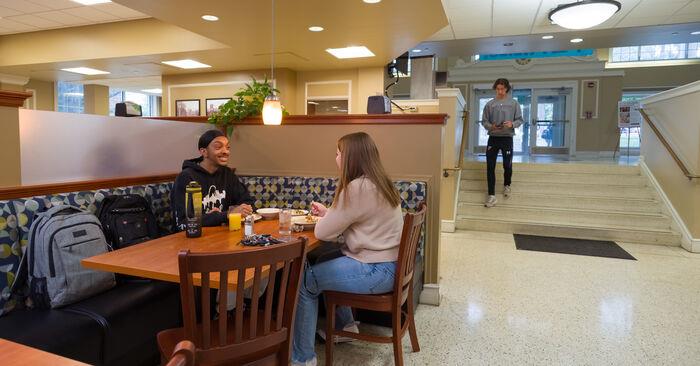 Students who want to live on campus during the 2024-25 academic year can start planning where they and their friends might like to reside.
The housing portal is now open for students interested in living on campus during the 2024-25 academic year. Residence Life is offering new options for next year, including expanded pet housing and more deluxe doubles in some residence halls at the same price as a regular double room, as well as more single-occupancy availability.
In former triple occupancy rooms in Blanton-Nason-Brewer Hall, which were rarely in demand, students will now have the option to secure a deluxe double room for the same price as a standard double. For upper-class students, Campbell Apartments will also offer single-occupancy options for the first time.
"Returning students living on campus have more options than a first-year student because returning students self-select their room earlier," said Jamie Van Boxel, director of Residence Life. "Returning students can group up with their friends to take over a section of a residence hall or a group of apartments in Campbell. Returning students also have the opportunity to live in larger rooms or in an on-campus apartment with more space with a roommate of their choosing."
On-campus housing will be available in Missouri Hall, Ryle Hall, West Campus Suites, Blanton-Nason-Brewer Hall and Campbell Apartments. Due to the Dobson Hall parking lot being utilized as a construction staging area, that hall will not be available. As a result, additional options will be available in West Campus Suites and, if needed, Missouri Hall.
"From a community building standpoint, this will allow us to offer a better student experience," Van Boxel said. "Having more students in some of our more in-demand locations and room types will give students more opportunities to meet one another, make friends and have access to a full range of services."
Pet housing will still be offered for the 2024-25 academic in the south wing of Blanton-Nason-Brewer Hall. The demand for pet-friendly housing has increased every year since the option was first offered in 2021. More information about pet-friendly housing can be found
online
.
Students planning to live on campus are encouraged to submit their housing application as soon as possible. Room self-selection begins Feb. 15 for returning students and April 3 for new incoming students. More information regarding the room self-selection timeline can be found online
here
. Questions about the housing process can be directed to Residence Life at 660.785.4227 or
reslife@truman.edu
.