Students Donate to United Way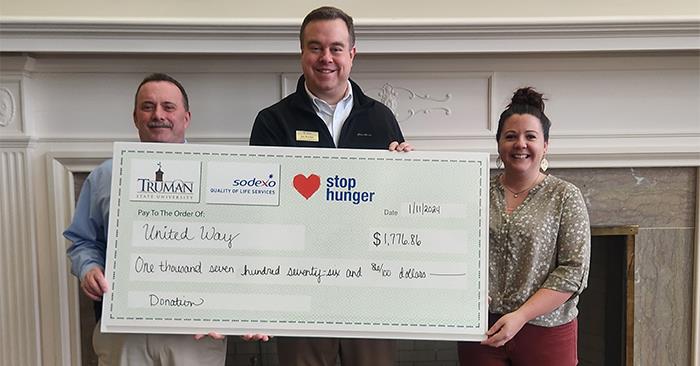 John Stewart (right), general manager of Sodexo at Truman, Zac Burden (left), assistant director of residence life, and Ramey Weichelt, 2022 United Way drive chair, display a check for United Way of Northeast Missouri.
Students with dining plans on campus donated more than $2,000 through meal swipes to help sponsor United Way operations in northeast Missouri.
John Stewart, general manager of Sodexo at Truman, thanked students for their incredible generosity in supporting the people of northeast Missouri. Zac Burden, assistant director of Residence Life at Truman, managed a process for students to donate meal swipes securely online. Students with the Residence Hall Association staffed tables alongside United Way board members to encourage students to donate and learn about the member agencies and their work in the region.
Bill Castles, executive director for the United Way of Northeast Missouri, noted that this donation will help to make possible the vital operations of various member agencies. He thanked campaign chairs Ramey Weichelt and Amanda Selby for recruiting board members to help with meal swipe donation and share information with students about how the United Way helps people in the community.
Truman Residence Life and Sodexo have partnered in this fundraiser for decades, raising tens of thousands of dollars throughout the program's history. This year, Truman students donated more than $2,400 to the campaign, which more than doubled last year's total. To learn more about local United Way efforts and to get involved with fundraising visit
liveunitednemo.org
.