Early-Vreeland Lecture Looks at "Apocalyptic Performances"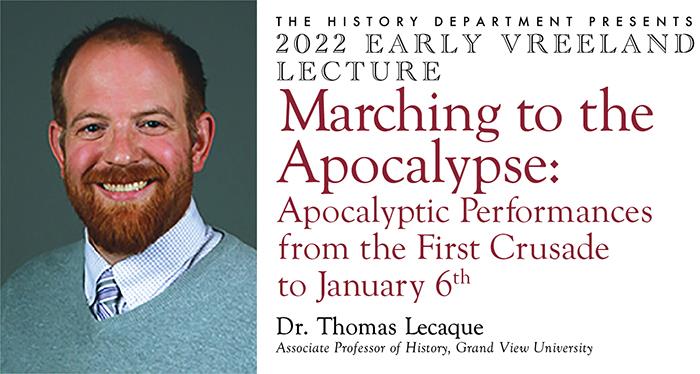 Dr. Thomas Lecaque will deliver the Early-Vreeland Lecture at 7 p.m. March 29 in Violette Hall 1010.

Lecaque is an associate professor of history at Grand View University in Des Moines, Iowa. His lecture, "Marching to the Apocalypse: Apocalyptic Performances from the First Crusade to January 6th," will discuss his research into the history of apocalyptic feelings and religious violence from the Middle Ages to the present day. This event will take a look into a thousand-year span of Christian history, stopping in at three particular moments in time — the First Crusade, the 18th century in the British Colonies of North America and the month-long lead up to the Jan. 6 insurrection in Washington D.C.
The Barbara Early-Vreeland Lecture was established by Joseph Vreeland in memory of his wife, a 1973 Truman graduate. The lecture gives the Truman community the opportunity to hear public lectures by scholars of international reputation.