Pickler Memorial Library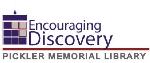 Remnant Trust Exhibit
A collection of rare manuscripts, incunabula and early Americana books, this exhibit provides an opportunity for the community to interact with unique materials ranging from 1250 to 1885 A.D. Focusing on democratic principles and ideals—from early philosophers and educators to actions of the Revolutionary and Civil Wars—highlights of the collection include:
•13th Century manuscript Commentary Petrus Hispanus
•1475 printing of Thomas Aquinas' Summa Theologiae Pars Secunda (one of three in the world, with the other two located at the British Museum in London and the Newberry in Chicago)
•Early printing of Aristotle's Ethics, Politics & Economy
•1776 edition of Thomas Paine's Common Sense
•Land deed signed by Frederick Douglass as Recorder of Deeds (1885)
•1863 edition of Lincoln's Gettysburg Address
A complete listing of all 37 items on loan from Remnant Trust is available upon request. For information on how to utilize this exhibit in the classroom or for other events, please contact the Special Collections Department at Pickler Memorial Library 785.4537.