Agricultural Science Department Supports Area 4-H and FFA Members at Local Fairs
Throughout the summer, Truman's Agricultural Science department recognized the efforts of 4-H and Future Farmers of America (FFA) members from Northeast Missouri who worked to prepare their projects for exhibition at county fairs.
The department purchased animals from the youth premium sales at the Macon County Fair and Northeast Missouri (NEMO) Fair. All proceeds from the premium sales went to the youth exhibitors.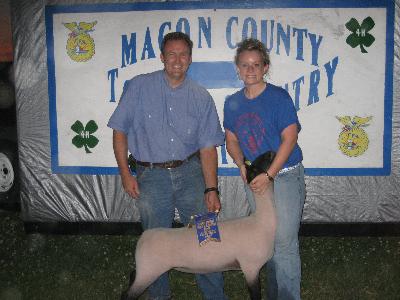 Michael Seipel, Agricultural Science Department Chair, and Charlotte Jackson with her market lamb.
At the Macon County Fair, the department purchased the lamb premium of Charlotte Jackson of New Cambria, Mo. At the NEMO Fair, the department purchased the market hog premium of Ashlyn Billington of Novinger, Mo. The department used funds from the Agriculture Development fund, contributed by alumni and other supporters of the program, to make the purchases.