Tenhouse Named Public Relations Intern
The Public Relations Office has announced Jesslyn Tenhouse, a senior journalism and public communication major and Spanish minor, as intern for the fall semester.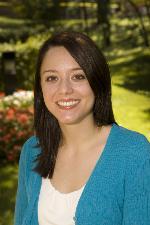 Jesslyn Tenhouse
Tenhouse, a Quincy, Ill., native, is a graduate of Quincy Senior High School. She is the daughter of Doug and Debbie Tenhouse and the oldest of four children.
As the intern, Tenhouse will help write, produce and distribute the University newsletter, Truman Today, as well as post it online. She will also write press releases and perform various office tasks.
Tenhouse currently serves as the vice president of recruitment for the social sorority Alpha Gamma Delta and previously served as public relations coordinator. She is a member of the honor societies Lambda Pi Eta, Order of Omega and Phi Kappa Phi. Tenhouse also works as a reporter and anchor for News 36.
Tenhouse's interest in public relations, writing and building experience in various communication outlets has led her to this position.