United Way Kicks Off Fundraising Campaign
Truman's United Way Campaign began Sept. 14 in an effort to strengthen the Kirksville community and reach this year's goal of $56,000.
The funds raised during the campaign will stay in the local area. The local United Way has among the lowest overhead in the nation, which means those who contribute will have more of their contribution dollars reaching the people that need it the most.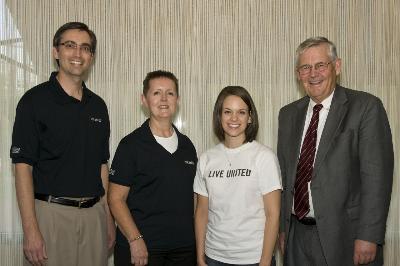 Pictured, from left, Joe Hamilton (United Way Drive co-chair), Debra Kerby (United Way Drive co-chair), Elise Bailey (student chair), and University President Darrell W. Krueger.
Funds raised by the campaign will help support local programs that help individuals pursue the goals of education, income and health. Recent statistics show that the United Way effects one out of three individuals in the Northeast Missouri area.
To request more information, please contact Debra Kerby at
dkerby@truman.edu
or Joe Hamilton at
hamilton@truman.edu
.