Kirk Renovation Project Enters Next Phase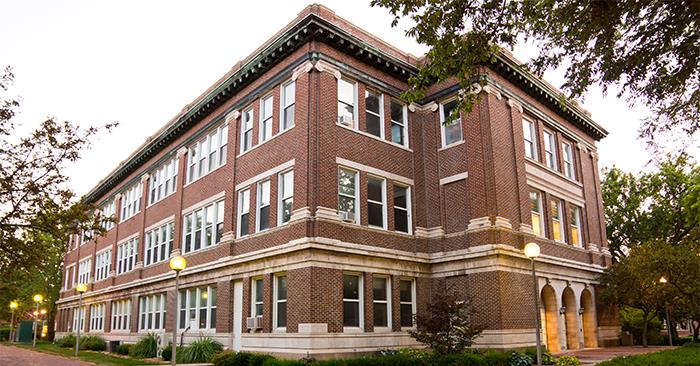 In the coming weeks visitors to campus will see noticeable signs of progress on the
Kirk Building renovation project
.
Interior demolition is slated to begin soon. Starting the week of Sept. 11, temporary fencing will be placed around the building to keep passersby at a safe distance. A construction dumpster will be located to the east side, and portions of the brick walkway near the residence halls will be temporarily removed.
While the sidewalk east of the building will be unavailable, a temporary pathway will be constructed so students living in the residence halls will have full walking access to the entirety of campus.
The parking lot behind Dobson Hall will be used as a staging area. It will be fenced off and unavailable. There will also be some construction-related traffic from the Dobson Hall parking lot down the sidewalk that runs south of and in front of Blanton-Nason-Brewer Hall.
Work on the renovation is scheduled for 10-hour shifts Monday through Thursday, with personnel arriving on site as early as 7 a.m. to avoid interfering with normal on-campus foot traffic. Throughout this phase of the renovation all attempts to be respectful and accommodating of surrounding on-campus residents will be made. In the event of any particular days when excess noise may be unavoidable outside of normal work hours, on-campus residents who may be affected will be notified in advance.
With financial assistance from the state of Missouri, Truman is renovating the Kirk Building to house a new Student Success Center. The center will employ a collaborative service model in which individual student service departments do not simply co-locate and deliver their services nearby to one another, but rather, work in coordination to meet students' needs from entry to exit. The Student Success Center will be comprised of: the Career Center; Tutoring Services; the Student Health Center; Counseling Services; Student Access and Disability Services; the Center for Academic Excellence; the Communication Lab; and the Writing Center.
Initial phases of the renovation began in August 2022. The project is scheduled for completion by December 2024.