Three Alumni Among Teacher of the Year Finalists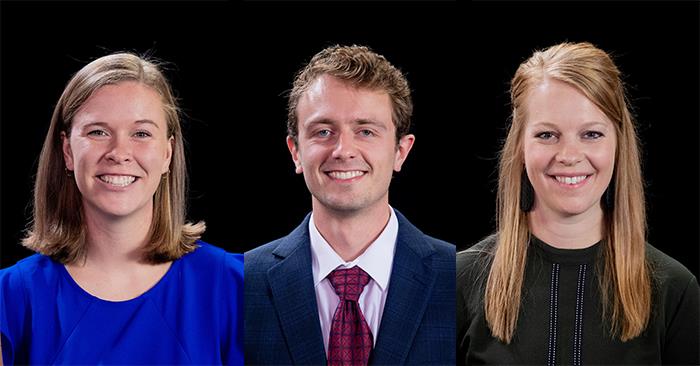 Truman alumni (from left) Kristina Kohl, Matthew Matheney and Lindsey Watson are each a finalist for the Missouri Teacher of the Year Award.

With roughly 70,000 educators in the state of Missouri, it is nearly impossible to recognize all those dedicated professionals who devote their careers to teaching. The Missouri Department of Elementary and Secondary Education tries to do just that with its Teacher of the Year program, and among the current seven finalists, three are Truman alumni.
Kristina Kohl, Matthew Matheney and Lindsey Watson all advanced to the finals for the 2022 Missouri Teacher of the Year award. The program recognizes the efforts of effective teachers who work tirelessly to provide a high-quality education to their students.
"Sincere congratulations to Lindsey, Kristina and Matthew," said Lance Ratcliff, dean of the School of Health Sciences and Education. "We are very proud of them, and we are honored to have helped all three of these alumni embark on such successful careers."
Since Truman was originally founded as a teachers' college, it is no surprise alumni are regularly finalists for this award. In addition to the University's rich history, its Master of Arts in Education approach and focus on best practices and personalized attention have helped Truman continue to produce top-notch educators.
"At Truman, we don't teach teachers, we teach their students," said John Jones, associate professor and chair of the Department of Education. "We prepare our graduates to be the best at what they do because their own students deserve nothing less from anyone who walks into their classroom and picks up the chalk. We are extremely proud of our three Teacher of the Year finalists. Any of them would be more than deserving of the honor."
All three alumni finalists represent different aspects of education. Watson ('11, '13) teaches fourth grade at Sunny Pointe Elementary in the Blue Springs School District. She was drawn to teaching because of her experience as a student. Having spent her childhood in three different countries, each transition to a new school brought difficulties of its own.
"From my appearance to my accents, being the new kid was tough. My teachers supported me through my transition to my new schools and helped me feel a sense of belonging," Watson said. "As a result, I started believing in myself and chose a career in education so I can offer my students a similar experience. I create a classroom environment where students can be the best version of themselves because all students are worthy of success."
Kohl ('16, '18, '22) teaches sixth grade English language arts at Truman Middle School in the Lindbergh District in St. Louis. She is also part of the first cohort to graduate from Truman's new Master of Arts in Gifted Education program. After five years in the profession, she is beginning to notice the lasting effects teachers can have on their students.
"I'm just now starting to see those long-term relationships stick out as some of the students I taught enter and exit high school," Kohl said. "I just love seeing how kids grow up, and I love even more when they come up to me excited to share about where they've been or where they're going. It's this amazing and unique opportunity we have as teachers, and though we don't always get to follow up with every student, I absolutely love when it happens."
Matheney ('17, '19) is a mathematics teacher at Miller High School in southwest Missouri. He is responsible for teaching geometry, algebra II, college algebra, technical mathematics, trigonometry and statistics to students in grades 9-12.
"I revel in the opportunity to create positive math experiences for everyone," Matheney said. "When someone experiences triumph in the face of an appropriately challenging problem, the result is magical. It's empowering. And when their list of triumphs grows, so does their confidence."
The Teacher of the Year is determined following interviews of each finalist by a committee comprised of teachers, business leaders and education organization officials. The winner will be announced later this month, and all finalists, semi-finalists and regional teachers of the year will be recognized at a banquet in October. The new Missouri Teacher of the Year will serve as the state's nominee for the 2022 National Teacher of the Year.