Career Expo Returns with In-Person Events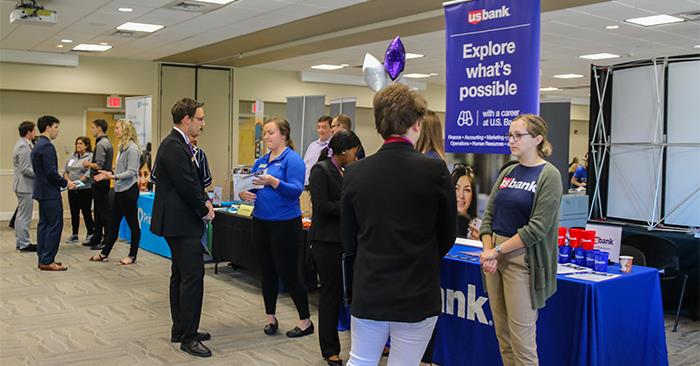 For the first time in two years the Career and Graduate School Expo will take place in person, Sept. 27-29.
The expo is open to students of all majors and academic levels. This event gives students the opportunity to participate in a variety of professional development activities.
The week will begin Sept. 27 with a virtual personal statement workshop hosted by Dave Lusk at 5 p.m., followed by a chance for students to work on resumes and cover letters from 6-8 p.m.
From 11 a.m.-3 p.m. Sept. 28 the Graduate School Expo will take place. This is an opportunity for those thinking of pursing graduate studies to connect with their future school.
The Career and Internship Expo will take place from 11 a.m.-3 p.m. Sept. 29. At this event students will get to learn more about opportunities in their field from several employers visiting campus. Later that night from 6-8 p.m. a post-expo networking event will take place at a local Kirksville restaurant. Students can enjoy food while mingling with employers, Career Center staff and other students. The location is yet to be determined, but will be updated in the schedule of events.

Both expo events will take place in the Student Union Building Georgian Rooms.
If an employer would like to arrange a more formal interview after the expo, the Career Center will schedule an interview time to meet in a reserved room on campus. These pre-selected interviews will take place from 8 a.m.-5 p.m. Sept. 30.
To learn more, or to register for these events, go to
hiretruman.truman.edu
then to Student/Alumni Login followed by events, career fairs and select career fair of choice. Click on attend in the upper right corner of the page to formally sign up. With any questions regarding times or function of the event, go to
career.truman.edu/career-grad-school-week/schedule-of-events
or email the Career Center at
careers@truman.edu
. These events will be accessed from #HireTruman.