Grad Fair Planned for April 5-6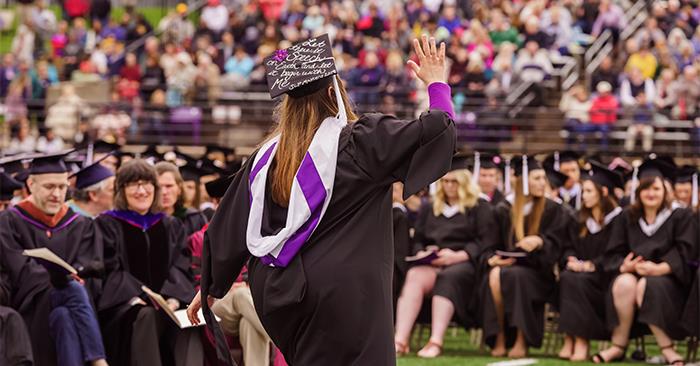 The graduation fair is scheduled for 9 a.m.-3 p.m. April 5-6 in the Student Union Building Activities Room.
Every degree candidate must complete a graduation clearance form prior to graduating. The clearance form verifies that all the necessary requirements for graduation have been completed, including the portfolio, senior test and GSQ. If all the necessary requirements for graduation have been completed, the entire clearance form can be completed while attending the graduation fair. Students who do not attend the fair will be required to visit all necessary offices individually in order to get the required signatures.
The fair provides the following opportunities:
• The completion of all clearance items in one spot
• Pick up rain tickets
• Pick up medallion if applicable
• Posed graduation photograph (cap and gown provided for picture; another picture will also be taken when the student walks across the stage at commencement)
• The opportunity to ask questions and get answers about graduation and the commencement ceremony
• Students who have a family member who is a Truman emeritus faculty, current full-time faculty or current full-time staff at Truman can request the family member present diploma cover. Those request forms will be available at the fair.
Things to do before the fair:
• Pay the graduation fee and/or outstanding balance. Payment can be made online via
TruView
or in person at the cashier's window. If eligible for Latin Honors (at least a 3.50 cumulative grade point average), the fee will include an $8 charge for medallion.
• Take care of any holds that have been placed on the account
• Submit the portfolio (See
portfolio.truman.edu
for assistance)
• Complete the Career Center survey (This is available in
TruView
under Student Tab>Getting Involved>Career Center>Employment/Graduate School Plans)
• Complete the GSQ (available online at
gsq.truman.edu
— passwords containing <, >, and & will not work)
Students who do not attend the fair must stop by the Registrar's Office, McClain Hall 104, to pick up a clearance form after April 6 and pick up rain tickets.
The progress of the graduation clearance form can be viewed on
TruView
under Student Tools Tab>Registration>Apply to Graduate>Graduation Clearance Form.