Meet Jenna Fischer During Fundraising Event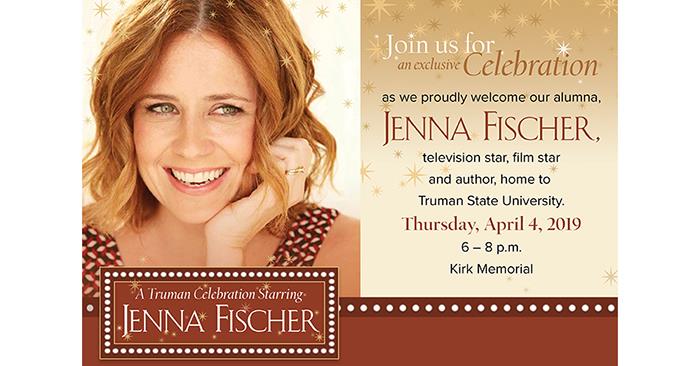 Prior to her presentation for the Holman Family Distinguished Series, Jenna Fischer will participate in a fundraising event to benefit the Theatre Department.
Fischer will be the featured guest at a limited-ticket event from 6-8 p.m. April 4 in Kirk Memorial. Tickets are $100 per person. All attendees will receive a commemorative photo from the event and an autographed copy of her book "The Actor's Life: A Survival Guide." Proceeds from this event will support theatre students at Truman.
Tickets are open to anyone and must be purchased in advance by contacting the Advancement Office at 660.785.4133 or 800.452.6678. The event will include heavy appetizers along with hosted wine and beer. Recommended attire is business dress.
Since graduating from the University with a Bachelor of Arts degree in theatre in 1995, Fischer's career includes more than 50 credits as an actor and producer. She is best known for her role as Pam on the hit NBC comedy "The Office," and she currently stars on the ABC series "Splitting Up Together." Among the feature films in her body of work are roles in "Walk Hard: The Dewey Cox Story," "Blades of Glory" and director Clint Eastwood's 2018 picture, "The 15:17 to Paris." After completing "The Office," she starred in the off-Broadway production of Neil LaBute's play "Reasons to be Happy."
The following evening, Fischer will speak at 7:30 p.m. April 5 in Pershing Arena. A limited number of tickets for that speech are still
available online
. Fischer's presentation is free thanks to the generous support of the Holman Family Distinguished Speaker Series, created in honor of Squire Paul and Meeda (Daniel) Holman by their children to honor their parents' long association with Truman. It is funded through an endowment with the Truman State University Foundation.