Notables
Cory Anderson
,
assistant professor of sociology and geography
, and
Steven Reschly
,
professor of history
, along with colleagues from The Ohio State University and the University of Missouri, have just announced the establishment of the Amish and Plain Anabaptist Studies Association (APASA). This is a new association for scholars interested in research about the plain people. The website for the new association
amishstudies.org
was designed by Truman student
Allison Gray
, while students
Jonas Chang
and
Alex Garber
put together the Amish population maps.
Justin S. Jarvis
,
Terry L. Olson
and
Matthew S. Wilson
, all of the Truman economics department, along with their coauthor, Parker A. S. Crutchfield, from the Program in Medical Ethics, Humanities and Law, Homer Stryker M.D. School of Medicine, Western Michigan University, were recently informed that an article they published was chosen as one of the 10 Most Notable Articles in 2017 in the Journal of Dental Education, "selected based on quality of research and presentation, importance of topic area, and innovative approach." The article, "Observed Altruism in Dental Students: An Experiment Using the Ultimatum Game," will be available for free on the JDE website through Feb. 28 at
jdentaled.org/content/81/11/1301.full
.
Assistant professors of accounting
Jack Winstead
and
Kathy Otero
, along with co-author Mitchell Wenger of the University of Mississippi, had their manuscript entitled, "Best Venue for Learning? A Comparison of Practitioners' and Educators' Preferences among Delivery Method Options for Developing AIS Proficiencies," published in Business Education Innovation Journal, Vol. 9, No. 2, December 2017.
Faculty members
Carolyn Cox
,
John Seiffertt
and
Don Bindner
were the inaugural winners of Truman's Academic Innovation Award.
Carolyn Cox
,
professor of health science
Rapid e-learning modules: 'Just-enough/just-in-time' learning
Abstract: The rapid e-learning interactive modules (used in the classroom or "on-the-go") are concise and immersive allowing students to review course topics that are relevant at that moment, access the modules at different times (or resume learning at a more convenient time), as well as test themselves on their understanding. Innovative instructional material and content packaged into "bite-sized" or "just-enough" modules lets students acquire introductory or urgent knowledge and concepts quickly on a "just-in-time" basis.
John Seiffertt
,
assistant professor of computer scienceDon Bindner
,
assistant professor of mathematics
Digital Currencies
Abstract: The interdisciplinary course CS 484 Digital Currencies explores both the social impacts as well as technical details of the new cryptocurrencies currently reshaping the worldwide financial landscape. Students write papers on and discuss the human elements of digital currencies as well as code computer programs interacting with bitcoin nodes.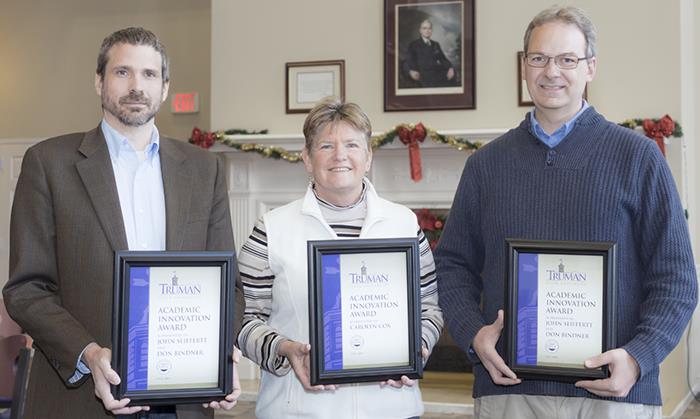 John Seiffertt, Carolyn Cox and Don Bindner