Calling for Commencement Volunteers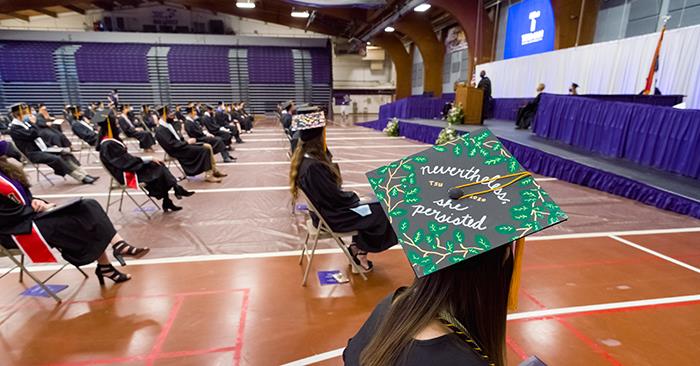 The University will celebrate and honor spring graduates May 7-8. Several volunteers are needed to help take tickets, pass out programs and direct people to the marked seating areas at the May Commencement Ceremonies.
Truman will be conducting seven ceremonies in order to provide socially distant, in-person experiences for graduates and their two guests. Volunteers can pick which ceremonies they would like to attend. All ceremonies will take place in Pershing Arena so they can be livestreamed for those who are not able to attend in-person.
The Registrar's Office is trying to create three "Commencement Teams" based on the grouping of ceremonies instead of trying to staff individual ceremonies. The commencement teams are broken into a Friday team, a Saturday early team and a Saturday late team with the divisions as follows:
Friday team
– The 11 a.m., 2:30 p.m., and 6 p.m. ceremonies
Saturday early team
– The 9:30 a.m. and 1 p.m. ceremonies
Saturday late team
– The 4 p.m. and 7:30 p.m. ceremonies
Anyone willing to serve on any of the commencement teams, or anyone with questions about volunteering, can contact Nancy Asher at
nasher@truman.edu
or Anna Ruiz Esparza at
annare@truman.edu
, or call extension 660.785.4143. For those who volunteer, more detailed information will be sent closer to the actual date.