Student Media Earn Multiple Awards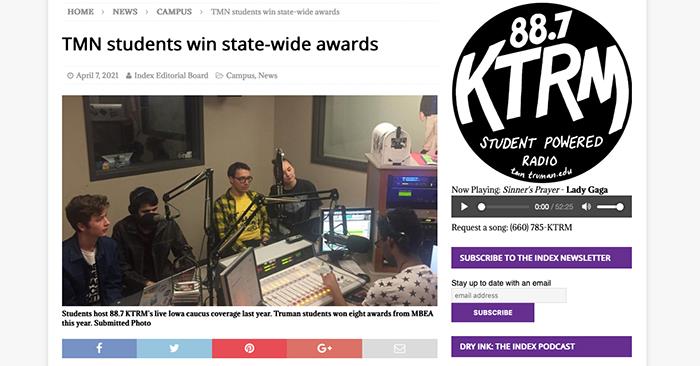 The Truman Media Network tied for second in the number of awards announced at the Missouri Broadcast Educators Association meeting, March 26.
"It is exciting that some of our students were honored by MBEA," said Don Krause, chair, Truman Media board. "These awards recognize the dedication of our students in producing strong content."
Thirteen Missouri schools competed in 29 categories. College of the Ozarks took home 10 awards, followed by Truman and Missouri State with eight. Other schools earning awards were Southeast Missouri State University with seven, along with Evangel University, Missouri Valley College and Northwest Missouri State University Student Media with six each.
Truman students won awards in five of the categories.

Rachel Becker, Trevor Grandin and Ryan Pivoney
Audio > News Story
Second Place, "Truman Students March for Breonna Taylor"
Annie Bensyl
Audio > PSA
First Place, "Go Vote"
Annie Bensyl
Audio > Special Programs & Podcasts
Third Place (tie), "Conversation About Race"
Trevor Grandin
Audio > Special Programs & Podcasts
Third Place (tie), "Pageturner Ep. 2 - Dr. Laura Fielden-Rechav"
Lesley Hauck
Audio > Station Promo
Second Place, "Vibe Check"
Connor Shelton
Audio > Station Promo
Third Place, "We Didn't Start the Liner"
Sam Tillman
Audio > PSA
Second Place, "COVID Testing"
Truman Media Network
Multimedia > Website
Second Place