Theatre Presents Post-Apocalyptic Drama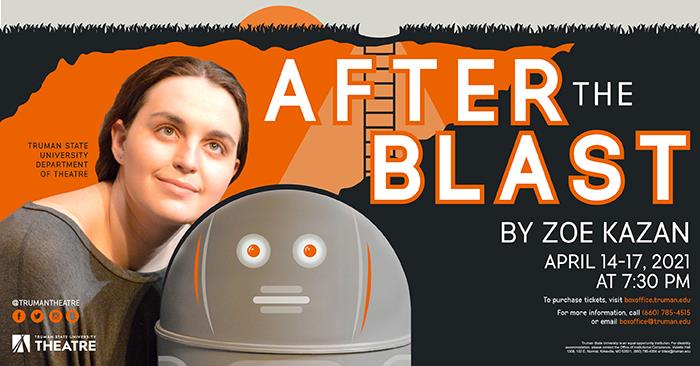 The latest theatre production, "After the Blast," will stream online at 7:30 p.m. April 14-17.
In the play, humans retreated deep underground generations ago after environmental disasters and nuclear war. Nature is now simulated through brain-implanted chips, and fertility is regulated to keep the surviving population in balance. Anna and Oliver want to have a baby, and their options are running out. To lift Anna's spirits, Oliver brings a helper robot into their home, and Anna finds the helper to be more human than she ever expected.
"After the Blast" is a play by Zoe Kazan based on the book by Antoine de Saint-Exupéry. Truman's production is under the direction of Dana Smith.
This production includes discussion of death, destruction, apocalyptic events, depression, suicide ideation, ableist comments and forced termination of a pregnancy. It is suitable for audience members 13 years and older.
Run time is approximately 115 minutes with a five-minute intermission.
Digital admission is $6 plus a $2 ticket fee. Tickets can be purchased at
boxoffice.truman.edu
. Contact the Truman Theatre Box Office for more info at
boxoffice@truman.edu
.