"Pursue the Future" Campaign Exceeds Goal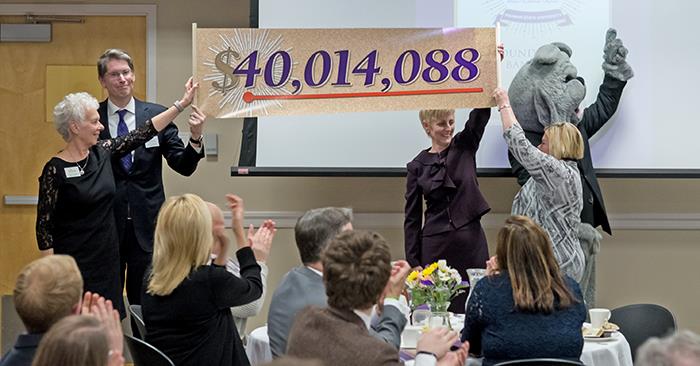 Attendees of the Foundation Banquet applaud as the current total of funds raised in the "Pursue the Future" campaign is announced. In less than the allotted five years, Truman surpassed its $40 million goal.


In less than the allotted five years, Truman surpassed the $40 million goal in its "Pursue the Future" fundraising campaign.
At the Truman State University Foundation Banquet, April 14, a surprise announcement revealed the campaign exceeded its original goal.
"I am grateful for each and every gift commitment that has been made during this campaign. It takes every single gift to reach a stretch goal," said Charles Hunsaker, interim director for advancement. "With roughly seven years invested in this campaign, counting pre-campaign planning, it is so gratifying for our staff and volunteers to have surpassed this significant goal."
A majority of the money raised will go directly toward helping students. Nearly $23.7 million dollars has been allocated to support Foundation scholarships. Academic programs and faculty support will receive more than $7.9 million, followed by $5.4 million for mission enhancement gifts, including the Truman Fund for Excellence, along with more than $3 million for athletics.
"Student-centered support was the driving priority for this campaign," Hunsaker said. "Our alumni and friends believe in Truman's mission and have demonstrated this belief by their willingness to invest in our continued efforts to provide opportunity and access for each of our students."
In total, more than 15,000 gifts and commitments have been received for the "Pursue the Future" campaign as of April 20. Commitments have come in all shapes and sizes, ranging from $1 up to the largest-ever commitment to the University, a $7 million legacy commitment from alumni Dan and Jan Shepherd.
Truman began the advanced gifts, or "quiet phase," of the five-year "Pursue the Future" campaign July 1, 2013. The three-year public phase began in July 2015. "Pursue the Future" will conclude June 30, 2018, and any gifts or commitments received prior to then will count toward the official total.
For information on how to make a gift to the "Pursue the Future" campaign, including personalized bricks and pavers for the Sesquicentennial Plaza, visit
campaign.truman.edu
.