Barger Named 2023-2024 Presser Scholar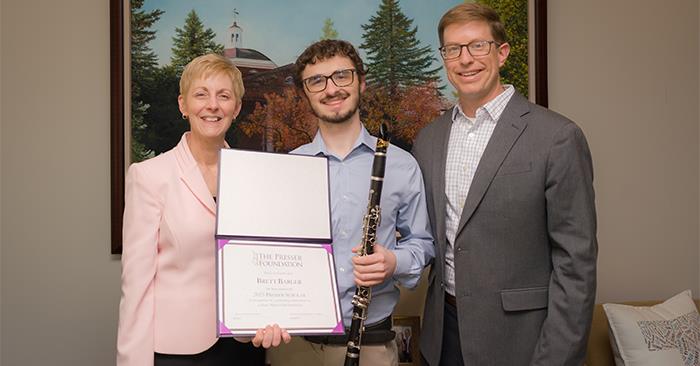 Brett Barger (middle) celebrates receiving the Presser Undergraduate Scholar Award with the help of University President Sue Thomas and Jesse Krebs, professor of music.
Brett Barger, a clarinet performance major from Lee's Summit, Missouri, has been named the Presser Scholar for the 2023-2024 academic year.
The Presser Undergraduate Scholar Award is given to an outstanding music major at the end of their junior year. The recipient is one who has grown individually and who has contributed earnestly to the success of the Department of Music.
As a student at Lee's Summit West High School, Barger studied clarinet privately with Mrs. Rebecca Casleman and was chosen four times to perform in the Missouri All-State Band. In 2019 he was selected to the Tanglewood Music Festival Clarinet Workshop where he studied under Dr. David Martins of the Tanglewood Institute.
At Truman, Barger studies clarinet with Jesse Krebs, professor of music, and performs as principal clarinet of the University Orchestra and Wind Symphony I. He also participates in the Truman Clarinet Choir and Statesman Marching Band. In addition to his performance schedule, Barger has maintained a strong academic and research record.
Barger's professional affiliations include Phi Mu Alpha Sinfonia, where he has served two consecutive terms as the Upsilon Phi Chapter's alumni relations officer. He is also a member of the International Clarinet Association. Recently, he was selected as a finalist for the 2023 ICA Orchestral Audition Competition and will compete in the final round at this summer's ClarinetFest Conference in Denver, Colorado.
Other recognitions include an honorable mention in the 2022 Missouri Music Teachers Association Collegiate Woodwinds Competition, runner up in 2020 MMTA Competition and winner in the 2021 MMTA Competition. Barger has also been selected twice to perform at the FSDA Chamber Music Festival in Abruzzo, Italy, where he has studied with Maestro Andrea Massimo Grassi of the "Accademia Teatro alla Scala."
As part of the award, Barger receives financial support of $4,000 from The Presser Foundation which works to fund the musical arts in their many dimensions and manifestations while striving to serve a broad and diverse community of musicians, educators and music lovers.