Truman Steel to Perform Holiday Concert for Lyceum Series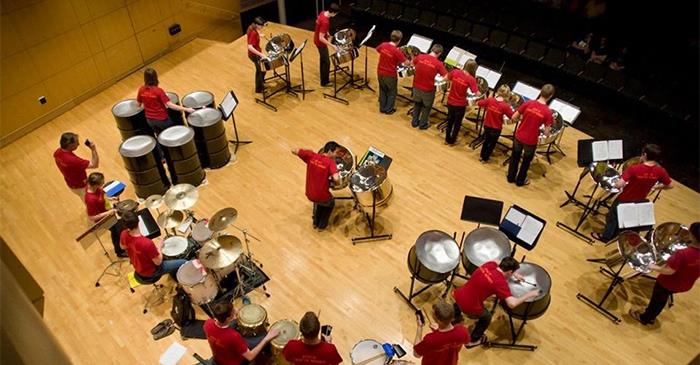 Truman's own University Steel Band will perform a holiday concert at 7:30 p.m. Dec. 3 in Baldwin Auditorium as part of the Kohlenberg Lyceum Series.
The University Steel Band, also known as Truman Steel, offers a tangible connection to the traditional steel pan music of Trinidad and Tobago. Under the direction of Michael Bump, professor of music, the ensemble serves as a unique ambassador for Truman to the local and national communities for which it performs.
The Truman Steel intercultural perspectives prerequisite course, Steelpan Music of Trinidad and Tobago, was created in the fall of 2012, following Bump's research sabbatical to the birthplace of the steel drum. Celebrating its 10th anniversary, Truman Steel continues to grow in size and attracts interest from students, faculty and the surrounding northeast Missouri community. International guest pan artists who have performed and worked with the ensemble have praised the band for its authentic roots in the origins of pan, while exploring new arrangements in non-traditional genres.

Admission is free but tickets are required. Tickets can be obtained at the ticket window in Baldwin Hall the night of the event, or they can be reserved in advance at the Sue Ross Arts Center in downtown Kirksville, the Advancement Office in McClain Hall 205, the Admissions Office and the Union and Involvement Office main desk in the Student Union Building. The event will also be available via
livestream
for those who can not attend in person.