Updated TruView Offers More Interaction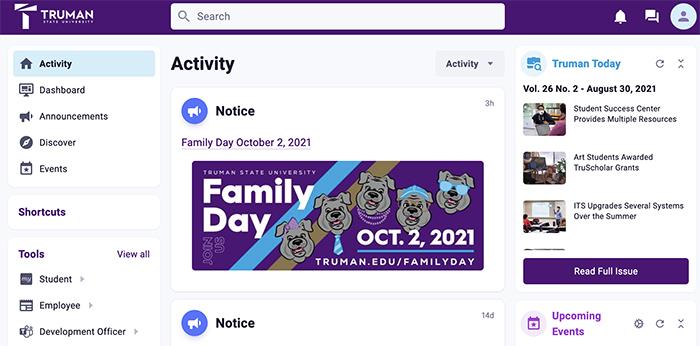 Truman's campus intranet, TruView, has been updated for all students, faculty and staff.
The new version of TruView offers the convenience of email, the engagement of social media, the power of group activities, online access to student, faculty and employee services, and much more. The same information and resources previously available can still be found on the new TruView.
This initial rollout mostly replaces and improves upon access to many University services, but additional enhancements are planned in the coming months. For example, during the fall semester, several groups will begin piloting some of the new "Group" activities and features, with the goal of setting up even more groups in the spring.

Click here
to find out more information about the upgraded portal, sign up to attend an overview session, or find documentation on how to navigate in the new system.
Anyone experiencing technical difficulties with the new version is encouraged to contact Information Technology Services by either calling the IT Service Center at 660.785.4544 or by submitting an online service request (with the
Customer Web Interface
, users can report and track on any open cases).