Forensics Earns Multiple Awards at Virtual Tournament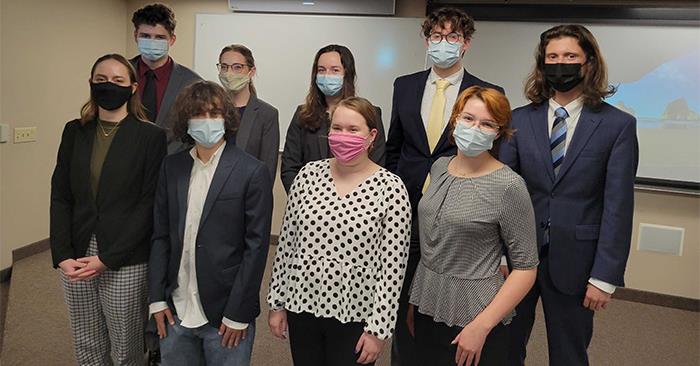 Students from Truman's Forensics Union attended virtual tournaments at Western Kentucky University and earned new qualifications in multiple events.
In individual events, Jackson Edler earned first place in impromptu speaking and extemporaneous speaking. Ella Schake placed third in dramatic interpretation. Emma Rohrbach earned top novice in extemporaneous speaking. Jillian Humke and Larissa Wratney placed sixth place in duo interpretation.
In debate, only 10 were invited to the Rising Stars Round Robin, which is intended for debaters going into their second year of debate. Elijah Baum and Alicia Stout close out finals winning it all. Baum placed third in speaker and Stout placed as top speaker. Mary Cecil was also invited to the Alexis Elliott Memorial Round Robin, an exclusive club where only 10 debaters in the nation were able to participate.
Truman continued its success at the WKU Debate the following days. In open division, Cecil was a quarterfinalist and fourth speaker. Stout and Baum were also octafinalists. In JV division, Matt Kruse finished as a semifinalist with Rohrbach and Bartz as quarterfinalists. Rohrbach also finished as ninth speaker, Kruse as sixth speaker and Kathryn Hammock as fourth speaker. In novice division, Caroline Spiller placed third speaker and was a finalist in novice going 6-0 in prelim rounds. The team earned first place in debate, first place in combined debate and IE and third place in individual events.
Truman earned a total of 10 new qualifications to the National Forensics Association national tournament. The team will participate in its next virtual tournament at Lewis and Clark University for the Phil Hunt Invitational in October. Any alumni interested in judging, or students interested in joining the Forensics Union, should contact Craig Hennigan at
chennigan@truman.edu
or Ben Davis at
bdavis@truman.edu
.