New Board of Governors Members Appointed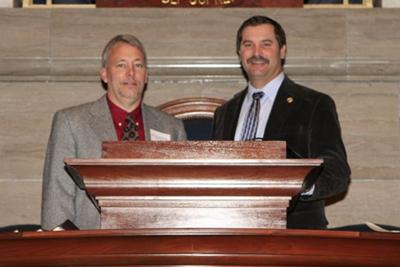 Mike Greenwell (left) and Sen. Wes Shoemyer (right) gather after the Missouri Senate confirmation of Greenwell's appointment to the Truman Board of Governors.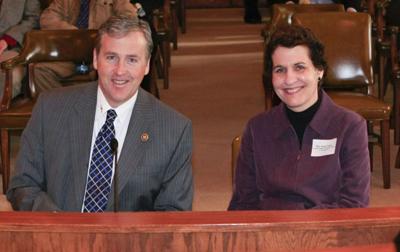 Sen. Charlie Shields (left) and Karen Haber (right) sit at the Missouri Senate confirmation hearing of Haber's appointment to the University Board of Governors.
Lt. Governor Peter Kinder, serving as acting governor, appointed two new members of the Truman State University Board of Governors to fill the expired terms of Wilma Maddox of Macon, Mo., and Randa Rawlins of Columbia, Mo.
The full Missouri Senate confirmed the appointments of Mike Greenwell of Shelbina, Mo., and Karen S. Haber of Kansas City, Mo.
Greenwell is a partner in the law firm of Greenwell & Wilcox. He holds a bachelor's degree in agriculture from Truman State University and a juris doctorate from the University of Daytona. Greenwell previously served on the Missouri Ethics Commission and currently serves on the board of governors of the Missouri Bar Association. Greenwell's appointment is for a term ending Jan. 1, 2011.
Haber has taught at the Park Hill School District for 30 years. She is a Spanish and French teacher at Park Hill High School. Haber holds a bachelor's degree in secondary education from Southwest Missouri State University (now Missouri State University), and a master's degree in education from UMKC. Haber's appointment is for a term ending Jan. 1, 2014.