Women's Swimming Wins Seventh National Championship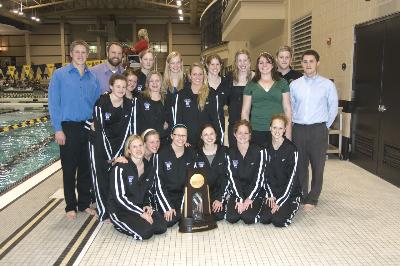 The Truman women's swimming team gathers after winning the NCAA Division II Swimming and Diving Championships March 15 in Columbia, Mo.

The Bulldog women's swimming team won the 2008 NCAA Division II Swimming & Diving Championship at the Mizzou Aquatics Center March 15 in Columbia, Mo. This makes seven national championships in eight years for the Truman women. Truman won with 461.5 points to Drury University's 449 points.
All 14 women's swimmers earned all-America honors. Kate Aherne led the way with eight all-America titles, while Erika Anderson and Molly Polette each grabbed six. Kendra Brunkow, Emily Greenwood and Emily Pufall each grabbed five.
Members of the men's team also earned all-America honors. Jason Stokes, Alex Totura and Adam Pruess, walked away with six all-America honors, while Peter McCall nabbed three and Andrew McCall had two. The Truman men scored 48 points and finished in 20th place overall.