Boyd and Davis Receive Innovation Awards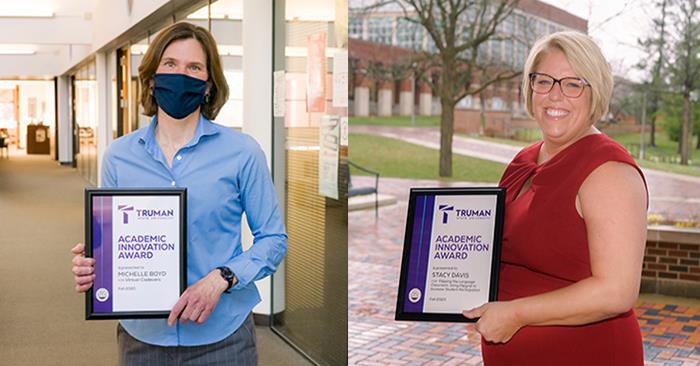 Michelle Boyd (left) and Stacy Davis with their Academic Innovation Awards.
Michelle Boyd, head athletic trainer and lecturer in health and exercise sciences, along with Stacy Davis, assistant professor of Spanish and Spanish MAE, were the fall 2020 winners of the Academic Innovation Award.
Boyd was recognized for creating
virtual cadavers
to help her students gain anatomy experience, even after COVID led to classes going online. Using cadaver images from the internet, she made her own abdomen into a "green screen" to give students a three-dimensional view of various internal organs, vessels and muscles.
Davis was recognized for
'Flipping' the Language Classroom: Using Flipgrid to Increase Student Participation
. To promote student communication outside the classroom, she investigated the use of a free social learning platform called Flipgrid. With this tool, students could upload video responses to questions and leave comments on other classmates' posts. Flipgrid allowed a more personalized interaction between students/students and students/instructor. It also enabled students to use Spanish in a more interactive discussion board, which is helpful for language acquisition.