Greek Week Returns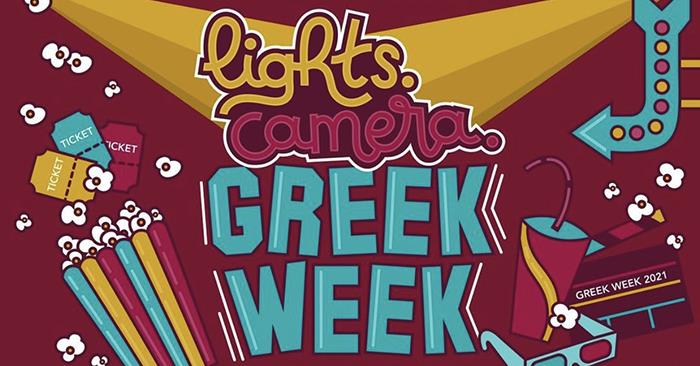 Greek Week is a celebration that takes place each spring and strives to build and promote Greek unity on campus through friendly team competitions. It is also a time for Greeks to give back to the campus and Kirksville community.
This year's theme is "Lights, Camera, Greek Week!" and all money raised will go to
RAIL
, Rural Advocates for Independent Living. This non-profit organization assists persons with disabilities to live as independently as they choose within the communities of their choice.
Activities began April 5 with a fundraising event at Bellacino's from 5-8 p.m. and a screening of "Ratatouille" on the quad at 7:15 p.m.
All events happening throughout Greek Week will be in accordance with University COVID-19 policies. More details are available at
greekweek.truman.edu
.
Greek Week EventsMovie Trivia
6:30 p.m.
April 6
Quad
Penny Bucket Competition
10 a.m.-2 p.m. • April 6-8
10 a.m.-12 p.m. • April 9
Mall
All donations benefit RAIL.
Scavenger Hunt
All Day
April 7
Campus wide
Greek Week Lip Sync
7 p.m.
April 7-8
Tickets are $5 in advance, $6 at the door
Greek Week will host its annual lip sync in Baldwin Hall at 7 p.m. April 7-8. Teams 2, 5 and 6 will perform April 7, while teams 1, 3 and 4 will perform April 8. Attendance will be limited and all campus COVID-19 policies will be enforced.

Closing Celebration
3 p.m.
April 9
Quad
Greek Week Court CandidatesAlex Sosa
Beta Theta Pi
Braden Leuthauser
Pi Kappa Phi
Will James
Delta Chi
Karlie Strawhun
Delta Zeta
Maria Carani
Sigma Kappa
Shelby Duessel
Delta Phi Epsilon