Music Professor Releases Album, Proceeds Support Charity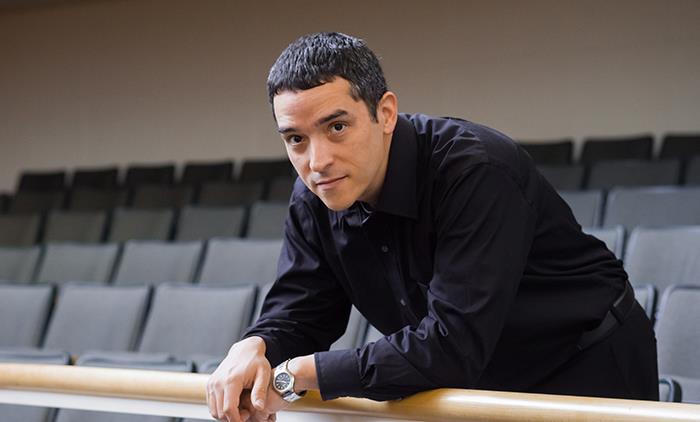 Victor Marquez-Barrios, associate professor of music theory and composition, will have his album, "Solo," released on all streaming platforms April 23.
This project includes compositions created over a period of 14 years, from a piano sonata written in 2006 while Marquez-Barrios was a graduate student in Michigan, to a set of miniatures for solo guitar written in 2020 while in lockdown and motivated by circumstances related to the COVID pandemic.
"Coming from a background in popular music, I knew it was important to have professional recordings of my work – something that is not perceived as common in the classical world," Marquez-Barrios said. "After each performance of one of my compositions I'd try to convince the performer(s) to do a high-quality studio recording. The problem with this is that I had to pay for each of these sessions out of pocket. I had no sponsors, so it took years of recording one piece at a time to put a full album together."
In addition to his role as composer, Marquez-Barrios appears on the album as a performer in a piece for guitar. Although the work is titled "Solo," it is actually quite a collaborative effort. It includes works for unaccompanied flute and clarinet, and numerous Truman artists contributed to the album's creation. Jesse Krebs, professor of music, performs the composition "Two Waltzes" for solo Bb clarinet, which was recorded by Charles Gran, professor and chair of the Department of Music, at the Ophelia Parrish Performance Hall.
Matthew Derezinski, associate professor of art, designed the cover, which includes a picture by University photographer Tim Barcus. Post-production and cover art design were generously funded by Truman's School of Arts and Letters through its mini-grant program.
"I came to Truman in 2015 and have enjoyed collaborating with colleagues and students since then, within the Music Department and beyond," Marquez-Barrios said. "I actively look for these opportunities to work with other artists because I feel that I learn lots in the process and, thankfully, I've found other people equally enthusiastic about collaboration here."
Physical copies of "Solo" in CD format are available now for $10. Half of the proceeds will be donated to
Global Giving
, a nonprofit organization that provides medical care and medicine to children in need in Venezuela. The audio mastering for "Solo" was done in Venezuela by audio engineer Juan Almao, and Marquez-Barrios has personal ties to the country.
"I was born and raised in Venezuela, a beautiful country currently going through what the UN Refugee Agency has called 'the largest displacement crisis in the world,'" Marquez-Barrios said. "Most Venezuelan children are under threat and in need of protection these days, and I'd like to try and help with those efforts."
CDs can be purchased at
marquezbarrios.com
or by contacting
Marquez-Barrios
via email.