Career and Grad School Week Returns in Virtual Format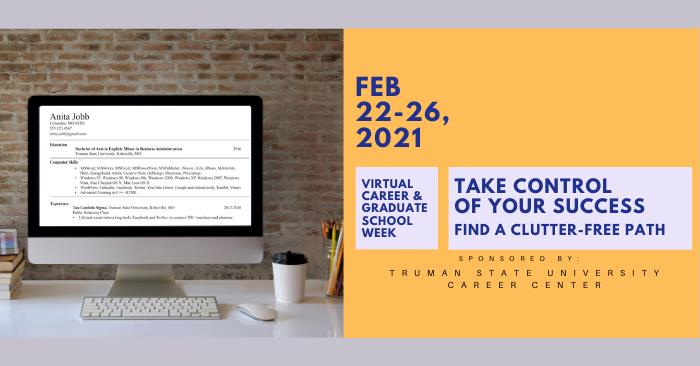 This year's Career and Graduate School Expo will take place virtually Feb. 23-25.
To start off the festivities, the Career Center will host an all-virtual Expo Bootcamp, Feb. 23. A professional statement workshop will take place from 5-6 p.m. From 6-8 p.m., there will be a resume workshop, a presentation to register for the Career Fair and a presentation on how to do a successful interview.
The next event will be the Virtual Graduate and Professional School Expo where students will get a chance to speak with recruiters from grad schools and learn about opportunities in their field. This will take place from 11 a.m.-3 p.m. Feb. 24. To finish the week off, the Virtual Career and Internship expo will take place 11 a.m.- 3 p.m. Feb. 25.
To learn more or to register for these events, go to
hiretruman.truman.edu
then to Student/Alumni Login followed by events, career fairs and select career fair of choice. Click on attend in the upper right corner of the page to formally sign up. With any questions regarding times or function of the event, go to
career.truman.edu
or email the Career Center at
ucc3@truman.edu
. These events will be accessed from #HireTruman.