Alumni Trivia Night Supports Students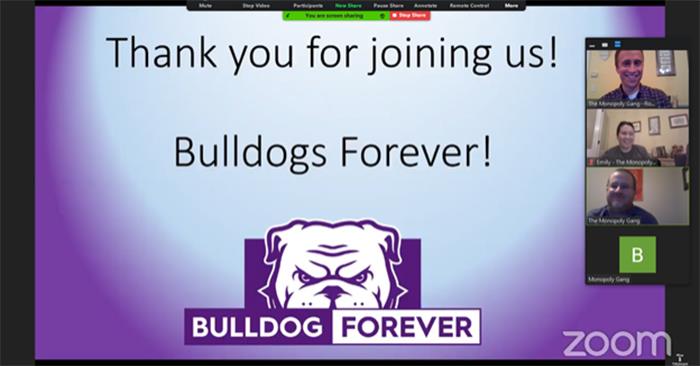 The Monopoly Gang, comprised of alumni Robert Kelchen ('07), Emily (Kiddoo) Kelchen ('08), Brandon Foster ('07) and Brian Rose ('06) won the Alumni Association's first virtual trivia night.
In lieu of in-person Homecoming activities this year, the Alumni Association hosted several virtual events to keep alumni, friends and students connected.
The association conducted its first virtual trivia night Oct. 29 with a total of 14 teams joining in on the fun. Alumni Kyle Hill ('07) and Alison Mayer ('05) served as the quizmaster and host for the evening.
All entry fees supported the Truman State University Foundation. Half of the entry fees went directly to the Investing in Students Fund, which provides emergency student relief for Truman students. The winning team had the opportunity to select the Foundation fund of their choice to receive the other half of the entry fees.
The winner of the inaugural Truman Virtual Trivia night was The Monopoly Gang, and they designated their support to the Truman Fund for Excellence, an undesignated fund that provides resources to the areas of greatest need on campus.