"Ghosts in the Machine" to Run Nov. 11-14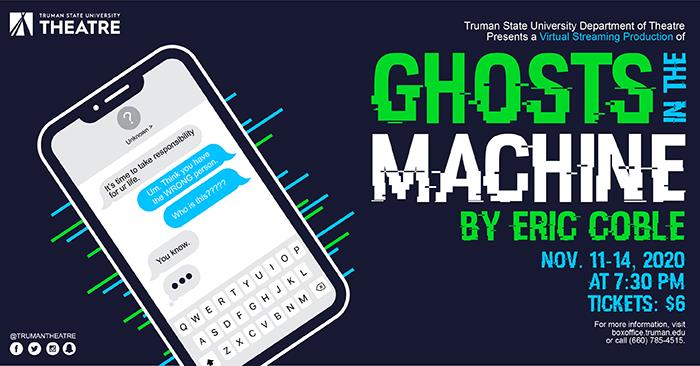 The digital mystery "Ghosts in the Machine" is the next production on the Truman Theatre schedule, and it will run nightly at 7:30 p.m. Nov. 11-14.
The production marks a first for Truman Theatre as it will be presented entirely online. All of the actors are Truman students, each with their own space where they will be preforming in front of a camera while the entire production is streamed live.
A comedy/drama by Eric Coble, "Ghosts in the Machine" is set in a high school. It begins after lunch on Melissa's phone. Someone she doesn't know is texting her looking for a drug hook-up. Soon, eight very different high-school kids are getting bizarre texts from numbers they don't recognize – budding romances, bitter rivalries, even violent threats. What's going on? And what if it's not people connecting with other people via their phones, but phones trying to connect with other phones via their people?
Tickets are $6 and available now at
boxoffice.truman.edu
. Once a ticket has been purchased detailed information on how to access the live stream will be provided. There is a limit of 250 audience members per performance.
"Ghosts in the Machine" is appropriate for audience members 13 and older. It features discussion of distressing themes such as self-harm and school violence. Runtime is approximately 1 hour and 15 minutes.
For more information, contact the Truman Theatre Box Office at 660.785.4515 between 11:30 a.m. and 5:30 p.m. Monday through Friday.