Miller to Deliver Commencement Address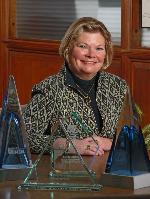 Linda Miller


Linda Miller will deliver the Truman commencement address at 2 p.m. May 5 at Stokes Stadium. A reception will follow at Red Barn Park.
Miller received her undergraduate degree from Truman in 1970 and went on to get her M.A. from the University of Kansas and her M.B.A. from the University of Detroit.
She is a Kirksville native and a 1967 graduate of Kirksville High School. Her parents are Louis and Rita Miller.
Miller recently retired as the manufacturing director of Powertrain Operations for Ford Motor Company.
She began working for Ford in 1973 as a quality control analyst at Ford's engine plant in Dearborn, Mich.
In only nine years she became the first woman to be named as a production superintendent. During her tenure she worked in many other positions including the director of Ford's worldwide Supplier Technical Assistance Org. and the director of the Global Manufacturing Business Office.
Miller was honored in 1997 with the Magnificent Seven award given by the Business and Professional Women/USA in Washington, D.C., recognizing her pioneering role as a woman in the automotive industry.
In 2000 and 2005 she was featured in
Automotive World
magazine as one of the top 100 women in the industry.
Finally, she was recognized by the Women's Automotive Alliance International with the Spirit of Leadership Award, given to a woman in the automotive industry who demonstrates commitment to community service and family values.
Miller was named Truman Alumna of the Year in 2002. She currently serves as the Truman State University Foundation Board president. She and her husband, Timothy Duperron, chief operating officer for Focus: Hope, reside in Grosse Ile, Mich.