Honors Scholar Ceremony Celebrates Students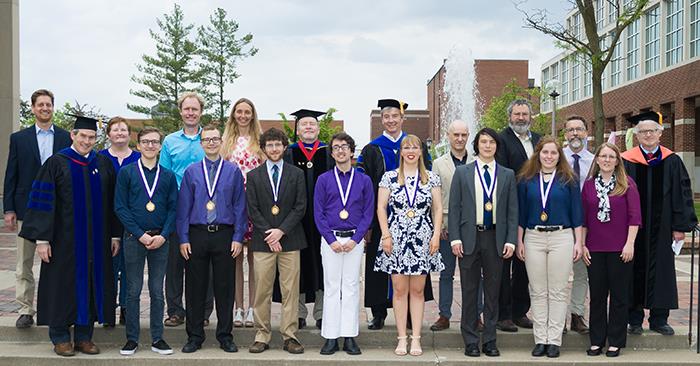 The 2018 honors scholars received their medals at a pre-commencement ceremony. Pictured, front row, from left to right: David Gillette, George Lloyd Wood IV, Kyle Angle, Phillip Dryden, Lewis Nathaniel Dunham, Morgan LeBaige, Jonas Chang, Taylor N. Libbert and Jennifer McNabb. Back row: Anton Daughters, Kimberly Titus, Tim Humphry, Amy Fuller, Adam Davis, David Partenheimer, Jason McDonald, James McCormick, Royce Kallerud and Steven Smith.
Seven students were recognized as honors scholar graduates for Spring 2018.
Honors scholar medals were awarded at a pre-commencement ceremony, May 11, in the Student Union Building Alumni Room. Truman's Honors Scholar Program offers outstanding students the opportunity to select rigorous courses in the liberal arts and sciences component of their degree programs.
The honor is awarded to graduating seniors who have completed five approved courses, with at least one from each of the four areas of mathematics, natural science, social science and humanities. They must achieve a grade point average of at least 3.5 in those courses and an overall grade point average of 3.5.