Krebs and Mohler Earn Academic Innovation Awards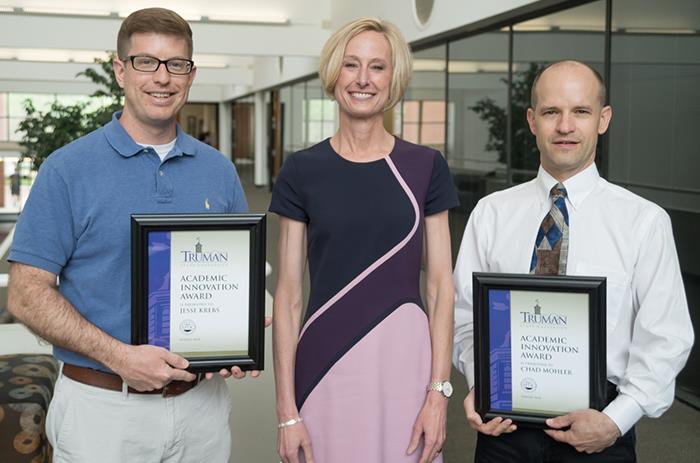 Jesse Krebs (left) and Chad Mohler accept their Academic Innovation Awards from Janet Gooch, executive vice president for academic affairs and provost.
Jesse Krebs, associate professor of music, and Chad Mohler, professor of philosophy and religion, were the Spring 2018 winners of the Truman Academic Innovation Award.
Krebs was recognized for his
Facebook video assessment project
. In an effort to assist his clarinet students in developing their ability to self-assess their playing, perform better under pressure and tactfully critique the performances of others, he has them participate in a virtual collaborative studio with clarinet students from the University of Nebraska-Lincoln using a private Facebook group. Every week Krebs video records part of their applied clarinet lesson and posts it to the group. Students are then required to comment on their video and three of their peers' each week to provide both positive feedback and areas for improvement with specific exercises that might help. In this way, technology enhances students' assessment, fosters an environment of collaborative learning and decreases performance anxiety.
Mohler was recognized for using
argument maps as a tool to aid critical thinking
. To better appreciate the relations among the parts of philosophical arguments, his Introduction to Philosophy students construct graphical visualizations of the arguments – either in electronic or physical form. In one form of the mapping activity, students arrange the pieces of each argument, represented on pieces of paper, as if they were pieces of a jigsaw puzzle.