Orchestra Performs with Musicians from Italy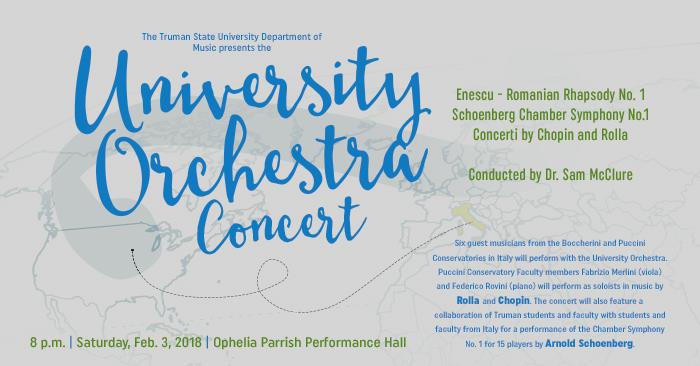 Truman's symphony orchestra, conducted by Sam McClure, will be performing in concert at 8 p.m. Feb. 3 in Ophelia Parrish Performance Hall.
The orchestra will be joined by six musicians from Boccherini and Puccini Conservatories in Italy. Puccini Conservatory faculty members Fabrizio Merlini, viola, and Federico Rovini, piano, will perform as soloists in music by Rolla and Chopin. Students and faculty from both Truman and Italy will perform the "Chamber Symphony No. 1" by Arnold Schoenberg. The program will conclude with the "Romanian Rhapsody No. 1" by Enescu. The concert is free and open to the public.
Merlini graduated under the guidance of Piero Farulli with honors. Subsequently, he took specialization courses with Bruno Giuranna and Dino Asciolla in Città di Castello, Portogruaro and at the Accademia Chigiana in Siena where he was awarded with the Diploma of Merit. He has been awarded in numerous national and international competitions including ARAM, Bordeaux and twice in Vittorio Veneto. As a member of the Orion Piano Quartet, Merlini was regularly invited to host concerts and master classes in Japan for many years. Since 2000, he has been part of the string quartet Elisa with whom he has toured in Spain, France, Belgium, Germany, Austria, Switzerland, the United States, Japan and for the main Italian concert companies. He teaches at the Conservatory of La Spezia.
After graduating magna cum laude and with a special mention, Rovini continued his studies with Bruno Canino and Martha del Vecchio at the Chigiana Academy in Siena. During this time, he received his Certificate of Merit for an international improvement course and studied composition with Gaetano Giani-Luporini and Luciano Damarati. As a soloist and a chamber musician, he has played as a guest for the most important musical associations and institutions in Italy. He has taught at the officially recognized Music Institute in Teramo, at the conservatories of Sassari and Cagliari and now is teaching at the La Spezia Conservatory where he became vice director in 2004 and director in 2014.
This performance is sponsored by the University Department of Music.