Theatre Season Opens Sept. 27 with "Good Kids"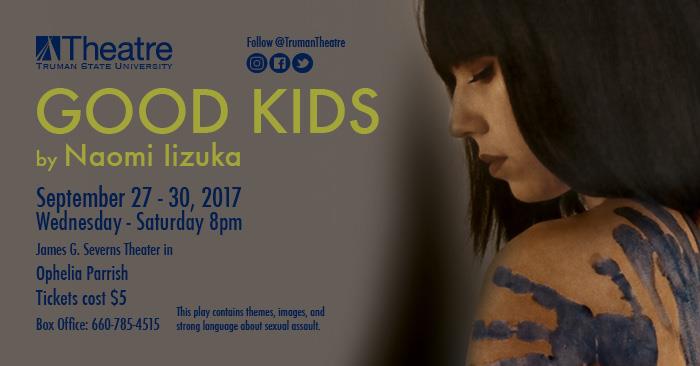 The first production by the Department of Theatre for the 2017-18 season will be "Good Kids" by Naomi Iizuka.
The show opens Sept. 27 and runs through Sept. 30 at the James G. Severns Theatre in Ophelia Parrish. Shows begin at 8 p.m. each night, and tickets can be purchased for $5 each at the theatre box office, located in the atrium of Ophelia Parrish. The box office is open from 11:30 a.m. to 5:30 p.m. Monday through Friday and at 7 p.m. on performance evenings.
This production contains strong language as well as images and themes involving rape. It is not suitable for children under the age of 12.
ABSTRACT:
"Good Kids" is a non-linear piece that has the feel of a documentary, but it is also an actor-driven ensemble piece. It is an exploration of the anatomy of a gang rape that occurs during a party of high school students. What are the ingredients, the attitudes, assumptions, and expectations that make it possible? What gets it started and keeps it going? How can basically "good kids," those who were raised in good homes, allow things to get so out of control? And why document the crime in photos and video posted on Twitter? Loosely based on real events, the play forces us to look squarely at difficult issues affecting the lives of millions of young people today. The play was commissioned in 2014 by the Big Ten Theatre Consortium, an organization dedicated to plays by women with strong roles for women.