Celebrating 150: Bulldogs Win Bowl Game in Front of President Reagan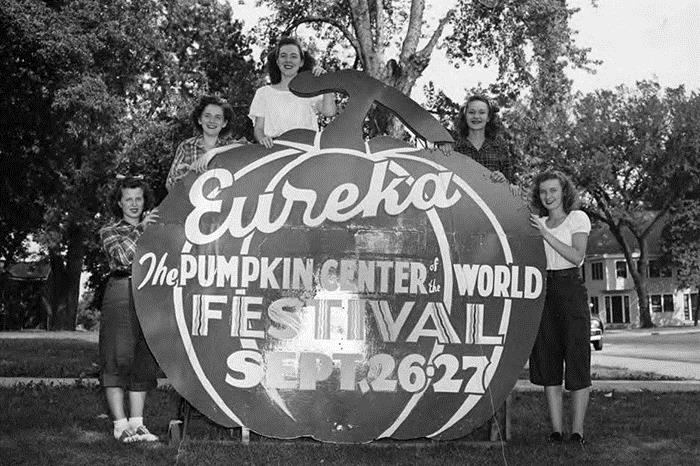 The Eureka Pumpkin Festival court pose next to the giant pumpkin sign advertising the 1947 event. Photo courtesy the Eureka Public Library and Carol Burton Sebastian.
In 1947, the Bulldog football team participated in a bowl game under the watchful eye of the president of the United States. Sort of.
True, it was not the Rose, Orange or Sugar Bowl, and Ronald Reagan was still 33 years away from winning his first term for the nation's highest office, but the team did earn a unique, albeit obscure, place in the annals of college football history. On Sept. 26, 1947, the Bulldogs took on Eureka College in the first-ever Pumpkin Bowl.
Unlike traditional end-of-the-year bowl games, the Pumpkin Bowl was not a post-season celebration, but rather part of the Eureka Pumpkin Festival. In the 1930s, the Libby's-owned facility in Eureka, Ill., was producing 15 million cans of pumpkins every year. The festival was created in 1939 to celebrate the community as "the true Pumpkin Center of the world."
According to the
Courier Newspapers
, the 1947 Pumpkin Festival was the largest in the event's history, with estimates of up to 100,000 people in attendance. That was the first year of the Pumpkin Bowl, and much of the turnout is credited to Eureka College alumnus Ronald Reagan returning to town for the first time in six years. A popular actor at the time, Reagan had the honor of crowning the Pumpkin Queen at the game.
The squad coach James Dougherty and assistant coach Boyd King fielded, listed in the program as "Kirksville Teachers," played the role of spoiler that day, defeating Eureka 21-0 in what is considered to be the first bowl game played in Illinois.
Unfortunately for all involved, the Pumpkin Bowl never became as popular as the Rose Bowl. Libby's closed the Eureka facility in 1960, and the Pumpkin Festival, along with the game, was soon discontinued. Although it may be a footnote in the storied history of college football, the fact remains the Bulldogs were the Pumpkin Bowl champions, and a president was there to bear witness to their victory.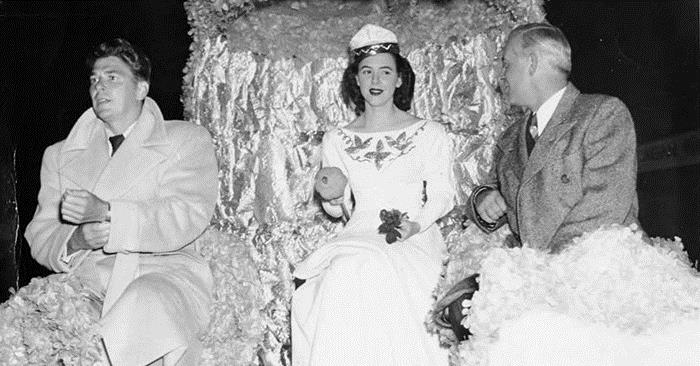 Ronald Reagan, left, rides on the queen's float during the Eureka Pumpkin Festival in 1947. The Bulldog football team participated in the first-ever Pumpkin Bowl as part of the festival. The future president, a Eurkea College alumnus,was on hand for the event and saw the Bulldogs win the game 21-0. Photo courtesy of the Eureka Public Library and the Woodford County Historical and Genealogical Society.