Kohlenberg Lyceum Series Schedule Announced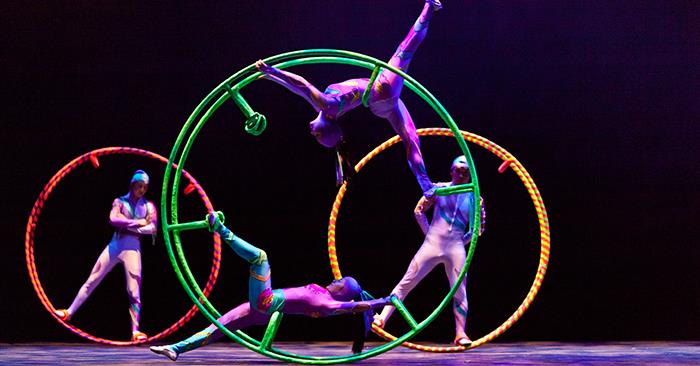 The Golden Dragon Acrobats will return to Baldwin Hall in February as part of the 2017-18 Kohlenberg Lyceum Series.

The Kohlenberg Lyceum Series returns to Baldwin Hall for the 2017-18 season, kicking off Oct. 23.
After renovations to Baldwin Hall resulted in a reduced schedule of events last year, the series resumes in the auditorium, which received new paint and lighting during the total building upgrade.
This season includes four full-stage productions, beginning Oct. 23 with an evening of big band music featuring the songs of George Gershwin. "American Rhapsody: The Gershwin Songbook" is an evening of iconic American music by one of the most indelible composers of the 20th century. After nearly a century, Gershwin's music remains as fresh and irresistible as it did during the Jazz Age. His poetic melodies and eclectic works of everything including Broadway, Hollywood, opera and classic American standards have left a legacy audiences love to hear again and again.
The holiday season will feature "Christmas from Ireland" with music from Lúnasa and guest soloist Ashley Davis, Dec. 6. Named for an ancient Celtic harvest festival in honor of the Irish god Lugh, patron of the arts, Lúnasa is indeed a gathering of some of the top musical talents in Ireland. Its members have helped form the backbone of some of the greatest Irish groups of the decade.
In the new year, the series continues Jan. 27 with a performance by the Liverpool Legends Beatles Tribute Band. With renditions of songs spanning the entire career of the Beatles, and on through the solo years, the Liverpool Legends use vintage instruments and outfit changes to create an authentic feel. The band has performed in venues such as Carnegie Hall and The Cavern Club in Liverpool, among many others.
Back by popular demand, the Golden Dragon Acrobats will return to the Baldwin Auditorium stage Feb. 17. The Broadway veterans hail from Cangzhou, Hebei province in China and have toured the United States continuously since 1978. Its members are athletes, actors and artists who have studied and trained for their craft since early childhood. Representing a time-honored tradition that began more than 25 centuries ago, the Golden Dragons utilize award-winning acrobatics, traditional dance, spectacular costumes, ancient and contemporary music and theatrical techniques to present a show of breathtaking skill and beauty.
Tickets for lyceum events go on sale two weeks before each performance. Cost is $5.50 (includes tax) for faculty, staff, students and members of the community. Tickets can be purchased at the cashier window in McClain Hall, at Edna Campbells in downtown Kirksville or online at
lyceum.truman.edu
. Questions regarding the Kohlenberg Lyceum Series can be directed the Public Relations Office at
pr@truman.edu
or 660.785.4016.
Anyone interested in being a Friend of the Kohlenberg Lyceum Series can go to
truman.edu/giving/support-an-area-of-interest/lyceum-series-fund
for more information.
"American Rhapsody: The Gershwin Songbook"
Oct. 23
Tickets go on sale Oct. 6.
"Christmas from Ireland" featuring Lúnasa
Dec. 6
Tickets go on sale Nov. 10.
Liverpool Legends Beatles Tribute Band
Jan. 27
Tickets go on sale Jan. 12.
Golden Dragon Acrobats
Feb. 17
Tickets go on sale Feb. 2.