Guest Recital to Feature Three Performers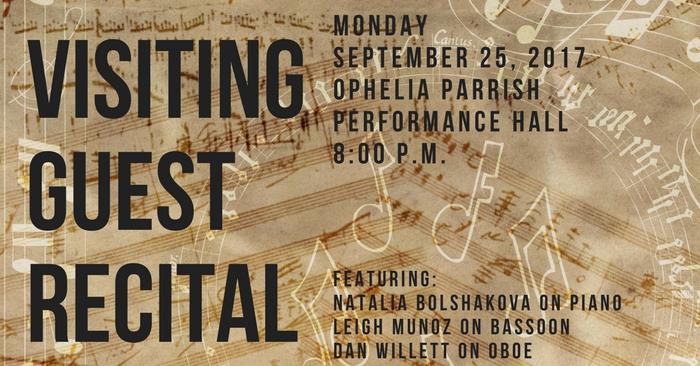 The Department of Music will sponsor a visiting guest recital featuring Natalia Bolshakova on piano, Leigh Muñoz on bassoon and Dan Willett on oboe at 8 p.m. Sept. 25 in the Ophelia Parrish Performance Hall.
Bolshakova studied at the Moscow Conservatory and the University of North Texas. She has been a prizewinner in many competitions, including the New Orleans International Piano Competition and the Ima Hogg Young Artist International Competition. She has performed as a soloist with orchestras across the U.S. and in Europe. In 1997, she was hailed by the BBC Music Magazine as "one of the most promising musicians of the younger generation." In August 2005, she premiered "Souvenirs" for piano, written for her by James Wintle at the Nancyphonies Festival in Nancy, France.
Muñoz is adept as an orchestral musician, soloist and educator and brings a variety of experiences to her career. She has degrees from Oberlin Conservatory, Ohio University and a performance diploma from New England Conservatory. She is currently serving as second bassoon for the Symphony of Northwest Arkansas. She has held contrabassoon positions in both the Springfield and Cedar Rapids symphonies and is currently a regular substitute bassoonist and contrabassoonist with the Kansas City Symphony, Lyric Opera and Kansas City Ballet.
Willett earned both bachelor and master's degrees from Michigan State University. His faculty duties have included teaching the oboe and reedmaking, coaching chamber music, music appreciation and performing as a member of the Missouri Woodwind Quintet, the ensemble-in-residence at the University of Missouri. In addition to regular solo recitals, Willett has performed with the St. Louis Symphony, St. Louis Bach Society and Kammerguild Chamber Orchestra. As a member of the Missouri Quintet, he has performed at Carnegie Hall in New York, the International Chamber Music Festival in Belem, Brazil, and in other cities including St. Louis, Boston and Chicago.
The concert is free and open to the public.