Delaney Named as Truman Nursing Community Preceptor of the Year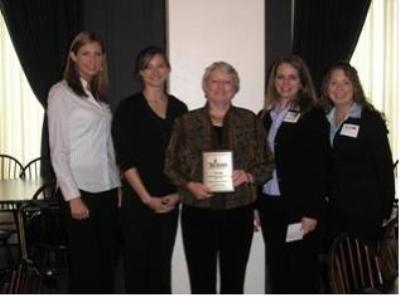 (Pictured left to right) Jayme Stubbs, Leah Kunard, Meredith Williams and Jennifer Anderson pose for a picture with Katie Delaney (center) who received the Preceptor of the Year in a Community Setting award.
Truman State University's Nursing Program recently selected Catherine "Katie" Delaney, R.N. and B.S.N., as its Community Preceptor of the Year. Delaney was honored at an awards luncheon May 4 at Truman. She works at the Knox County Health Department in Edina, Mo., and has been a preceptor for Truman nursing students for several years.
The Nursing Program at Truman selects highly qualified registered nurses to serve as role models, mentors and supervisors for senior nursing students in selected clinical areas of interest. These registered nurse preceptors assist the faculty and students in meeting course objectives in the selected clinical areas. Each year faculty and senior students select and honor an acute care and a community preceptor of the year.