Durflinger Receives NEMO Nurse of the Year Award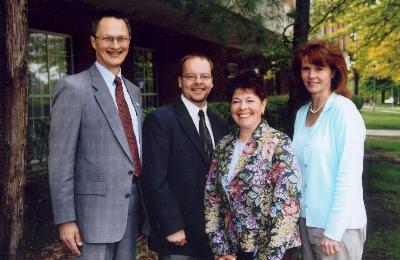 Tim Tucker (left), Terry Combs (second from left) and Debra Stroud (right) nominated Betty Durflinger (second from right) for the NEMO Nurse of the Year award. Durflinger received the award May 4.
Betty Durflinger, R.N., was named NEMO Nurse of the Year at the May 4 Capstones of Nursing, co-sponsored by Truman State University Nursing Program and Rho Omega Chapter of Sigma Theta Tau International Honor Society of Nursing.

Durflinger recently retired from her position as director of nursing at Chariton Valley Association for Handicapped Citizens Inc. after 16 years dedicated to serving individuals with developmental disabilities. Tim Tucker, Terry Combs and Debra Stroud nominated Durflinger for this award. The NEMO Nurse of the Year is an award given to a registered nurse in Northeast Missouri who exemplifies excellence in the practice of nursing.