Business Student Team Present Internship Results to Kraft Foods (Adair Foods)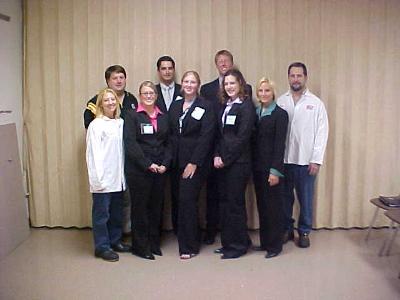 Business division students and the Kraft Foods employees they worked with during the semester gather after a presentation. (Pictured front row, left to right) Jessica Triphahn, Katie Parrott, Carrie Nunn, Melissa Rhomberg and Larry Baker; (back row, left to right) Tim Anderson, Brian Graham and Bradley Martin.

A team of six business students from Truman State University presented their findings to management representatives of Kraft Foods (Adair Foods) April 25 at the Kraft Foods plant in Kirksville.
Brian Graham, a business administration major from Kansas City, Mo.; Carrie Nunn, an accounting major from Festus, Mo.; Bradley Martin, a business administration major from Overland Park, Kan.; Katie Parrott, an accounting major from St. Louis; Melissa Rhomberg, a business administration major from St. Louis; and Laura Staniulis, a business administration and mathematics double major from Algonquin, Ill.; completed a semesterlong team internship with Kraft by presenting a review of their experiences during the internship, the results of their findings, and their recommendations with Kraft. The team was able to make suggestions to improve a sanitization process that resulted in a one-hour savings in elapsed time for this process. Representatives of Kraft are pleased both with the results gained from implementing the recommended changes to their processes as well as the questions and the insights gleaned from their conversations with the students.
The team internship is a new opportunity for the Truman business students. The students were selected in a competitive process based on their résumés and their performance on behavioral-based interviews. They worked closely with Tim Anderson, the manager of human relations at Kraft Foods, and the two team leaders responsible for the sanitation process, Larry Baker and Jessica Triphahn. Internships provide practical experiences that allow the students to apply what they have learned in the classroom. Most internships are offered on an individual basis. However, many organizations have moved to more team-based processes and want to hire individuals with strong team leadership skills. Having experience in team-based problem solving is extremely beneficial for these students.