Twenty-Eight Graduates Named Valedictorians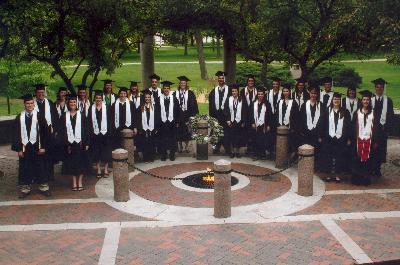 The spring valedictorians gather prior to commencement May 13.

Twenty-eight graduates received top honors at Truman's spring 2006 commencement ceremony May 13 at Stokes Stadium.
Each valedictorian had a perfect 4.0 grade point average for all subjects.
Valedictorians included Randy Beilsmith, Nicholas Beydler, Sarah Billing, Casey Copeland, Sarah Edwards, Jared Erwin, Megan Harney, Michael Hoeh, Christine Janson, Sarah Jones, Linsey Karwoski, Amanda Keener, Mary Klein, Sarah McDuff, Sara Miller, Samuel Murphey, Andrea Rabenold, Roberta Rader, Jessica Rasmussen, Elizabeth Robinson, Michelle Salzman, Sabrina Sandeen, Jason Showmaker, Kathryn Smith, Angela Soemo, Neil Stransky, Rebecca Vice and Kendra Woods.