Student Union Purchases Student Art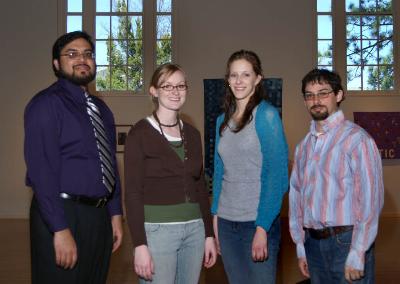 Sujit Chemburkar, director of the Student Union Building, (left) and Aaron Fine, director of the University Art Gallery (right) gather with award winners Megan Irwin (second from left) and Keila Ferree (second from right). Additional winner Mackenzie Smith is not pictured.

The Student Union purchase prize winners from the Annual Juried Student Art Show are Keila Ferree, a junior art major from Nevada, Mo.; Megan Irwin, a senior art major from Columbia, Mo.; and Mackenzie Smith, a senior art major from Lone Jack, Mo. Ferree was the first place award winner for her mixed media piece, "Untitled." She received $300. The other two winners each received $100 as second place winners. All pieces will become part of the Student Union's permanent collection of student art.