Truman Alumna Presents Undergraduate Research in Washington, D.C.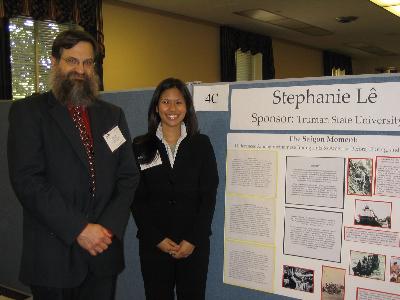 Truman alumna Stephanie Lê ('05) and her faculty mentor, Steven D. Reschly, associate professor of history, traveled to Washington, D.C., where Lê presented her research about Vietnamese immigration on April 25.
Stephanie Lê, a December 2005 Truman alumna who graduated with a bachelor of arts in history, presented her research on Vietnamese migration to the United States at the Council on Undergraduate Research "Posters on the Hill" event April 25, in Washington, D.C. Her faculty mentor for the project, Steven D. Reschly, associate professor of history, accompanied her for the presentation in the Rayburn House Office Building on Capitol Hill.
Lê's proposal was one of 60 chosen from more than 300 submissions. The project, titled "The Saigon Moment: Differences among Vietnamese Immigrants to America, Before, During, and After 1975," was supported by a Truman summer research grant. She interviewed 24 Vietnamese immigrants and Vietnamese-Americans, seven who left Vietnam before 1975, 12 who left during and immediately after April 1975, when Saigon fell to North Vietnamese forces, and five who left the reunified Communist Vietnam. She demonstrated that the timing of emigration from South Vietnam was a decisive factor in shaping the cultures of Vietnamese immigrants in the United States. Lê completed the project for the HIST 400 - Senior Seminar in History course taught by Marc Becker, associate professor of history.
As part of the program, Lê and Reschly met with Sen. Jim Talent and spoke with staffers in the congressional offices of Sen. Kit Bond, Sen. Tom Harkin, Sen. Barack Obama, Rep. Emanuel Cleaver II and Rep. Kenny Hulshof to promote undergraduate research and support for higher education.
Lê now works for the White House Initiative on Asian Americans and Pacific Islanders.