Rose Receives Governor's Award for Excellence in Teaching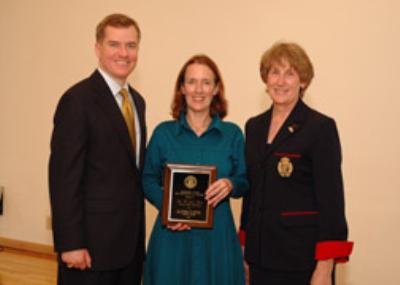 Gov. Matt Blunt (left) and University President Barbara Dixon (right) congratulate Lynn Rose (center) on receiving the Governor's Award for Excellence in Teaching.

Lynn Rose, associate professor of history, received special recognition from Gov. Matt Blunt during the luncheon at the 2006 Governor's Conference on Higher Education recently in Columbia, Mo.
Rose was one of 14 outstanding faculty members, each representing a Missouri college or university, to be recognized for her commitment to excellent education for Missouri citizens. Rose was chosen for her effective teaching, innovative course design and delivery, effective advising, service to the institutional community, commitment to high standards of excellence and success in nurturing student achievement.
Rose began her career at Truman in 1995. She received both her doctorate and bachelor's degree from the University of Minnesota-Minneapolis. She also received Truman's Educator of the Year Award in the spring of 2005.