Nursing Program Advisory Council Holds April Meeting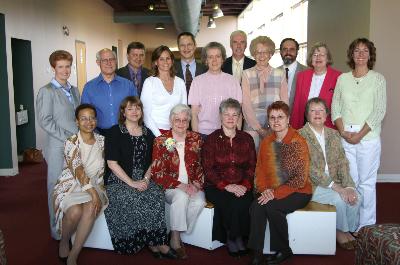 People at the Nursing Advisory Council meeting include (front row, left to right) Bertha Thomas, Brenda Higgins, Myra Baiotto, Elsie Gaber, Delores Lesseig and Harriett Beard; (second row, left to right) Shirley Riley, Charles Baldwin, Melanie Grgurich, Judi Misale, Alvina Britz, Odessa Ofstad and Alice Allinson; (third row, left to right) Mark Gambaiana, Tim Tucker, Mark Laughlin and Dennis Smith. Martha Gragg, Jack and Sue Magruder, Lesa McCartney, James and Rene McGovern, Peg Ernst, Jill McCord, Toni Smith, Jerry Smith, Renee Brayton, Bonnie Collier, Stephanie Keith and Carol Race are not pictured.

The Truman State University Nursing Program Advisory Council met on April 6. The Council's purpose is to promote the recognition, welfare and progress of nursing education at Truman through advising and consulting with the Nursing Program.