Schwengel Lincoln Competition Winners Announced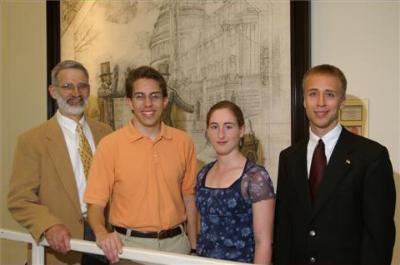 Chett Breed, (left) professor of English, announces (second from left to right) Brian Robert Rose, Jessica Bennett and Robert Kelchen as winners of the Schwengel Lincoln Competition.
The Truman State University Division of Language and Literature and Division of Fine Arts have recently announced the winners of the annual Schwengel Lincoln Competition in essay, oratory and art.
In the essay category, Jessica Bennett, a senior communication major from O'Fallon, Mo., earned first place with her work titled "Pennies and People." Brian Robert Rose, a senior history major from Shawnee Mission, Kan., earned second place in this category with his essay titled "Shades of Lincoln."
The winner of the oratory category was Robert Kelchen, a senior business administration and economics double major from Hiram, Ga.
Students entering the competition had to use an informed understanding of former United States President Abraham Lincoln and of the selected excerpted passage from "Encounters with Lincoln," a book recently published by Thomas Trimborn, professor of music, to prepare a 1,000-1,500 word, 3-5 page essay, a speech of the same length or an artistic work. The winners in each category received a $300 cash prize or a trip to Washington, D.C.
The Schwengel Lincoln Collection was established by alumni Fred D. ('30) and Ethel ('32) Schwengel in 1976. The Schwengels donated an outstanding collection of artwork, books, and memorabilia devoted to the 16th President. Now numbering in the thousands, the collection celebrates the life and ideals of Abraham Lincoln.
The Schwengels established the Schwengel Lincoln Foundation in conjunction with the collection to inspire future generations with the ideals and values of Abraham Lincoln. Since 1977, the Foundation has underwritten a contest in art, oratory, and essay writing on a Lincoln-related theme. The contest, held each spring, is administered by the Fine Arts and Language and Literature Divisions, and is open to high school as well as college level students. Some of the prize winning entries of past years may be viewed in the Schwengel Lincoln Collection.
The Schwengel Lincoln Collection is located in Pickler Memorial Library on the campus of Truman State University and is open to the public free of charge. The permanent art exhibit, in the lounge and gallery areas on the third floor, is available for viewing whenever the Library is open. Special exhibits are occasionally mounted in the first floor gallery as well. The book collection is in the Special Collections Department, just off the third floor gallery. Identification, such as a student ID or driver's license, must be presented when requesting use of these materials.
For a complete listing of library hours, check the library Web site at
http://library.truman.edu
. For contest information, contact the Division of Language and Literature at 785.4481.