Alumni Gift $40,000 to Support the Missouri Government Internship Program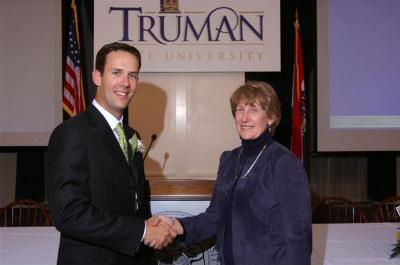 Ryan Brennan, principal for Advantage Capital Partners, is pictured at the recent Foundation Banquet with University President Barbara Dixon. Brennan presented a keynote address at the banquet and also informed the University of a $40,000 gift to benefit Truman's Missouri Government Internship Program.
Truman State University alumni Scott Zajac ('83) and Ryan Brennan ('95) along with their company, Advantage Capital Partners, have made a gift of $40,000 to establish an endowment to benefit the Missouri Government Internship Program.
Zajac, the firm's senior managing director, and Brennan, principal, are both former participants of the program that annually sends Truman juniors and seniors to Jefferson City for a semester internship with a legislator, public official or state agency.
"Truman is delighted to receive this investment in one of our most distinctive co-curricular student programs," said University President Barbara Dixon. "The endowment will expand opportunities for students and provide a solid financial base for the future."
Earnings from the endowment will be directed to stipends received by program participants, used to defray housing and living expenses incurred during the semester. The Truman State University Foundation also supports the program through unrestricted gifts.
The gift will also be used as a catalyst to seek additional endowment support from other program participants and corporations with mutual interests, according to Mark Gambaiana, vice president for University Advancement. An estimated 500 Truman students have participated in the program since its inception in 1972.
Formed in 1992, Advantage Capital Partners is a private equity firm that invests in promising companies in connection with federal, state and local economic development initiatives. With offices in St. Louis, New Orleans, La., and several other cities, the firm has raised more than $700 million in institutional capital.