Truman McNair Program Receives Largest Grant Award in Missouri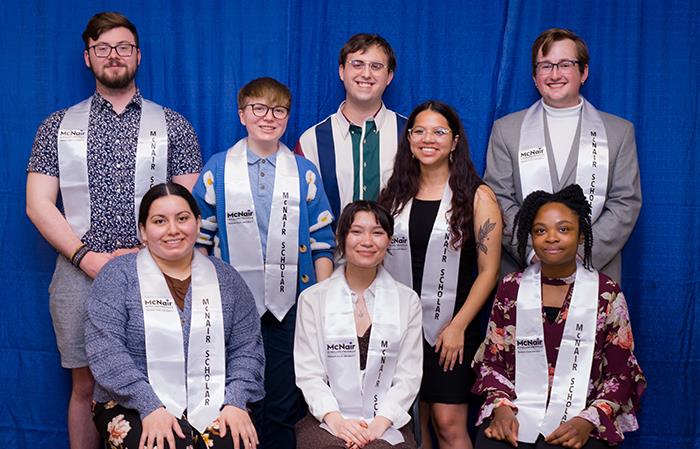 Truman's McNair Program saw eight students graduate at the conclusion of the spring semester.
Truman recently received a five-year award of more than $1.5 million in support of the University's McNair Scholars Program to help college students prepare for postgraduate studies.
Of the 189 new grants distributed by the U.S. Department of Education, Truman's award ranked in the top 20 in the nation. The University's total of $1,517,720 was the largest among the four awards distributed in the state of Missouri this year.
"For 30 years, McNair Scholars have been a dedicated and talented group of Truman students who commit to completing additional work while enrolled in rigorous undergraduate programs of study," said Heather Cianciola, Truman's McNair director. "They do this to ensure that their goals for advanced education stay within reach. For many first-generation, low-income and underrepresented students, opportunities to complete master's and doctoral degree programs evaporate if students do not have consistent access to financial resources and effective preparation. The McNair Program grant from the U.S. Department of Education enables Truman to have a vibrant and academically driven community of student-leaders who combine their own strengths with McNair's targeted resources and services. As a result, what Truman McNair alumni accomplish for themselves and their communities year after year is never surprising and always amazing and worth celebrating."
The Ronald E. McNair Postbaccalaureate Achievement Program honors the second African American to fly in space. After his death in the Challenger space shuttle accident in 1986, members of Congress provided funding for the McNair program. It is one of eight federal TRIO programs designed to remove social, academic and cultural barriers to students' higher education goals.
Located in Adair House with Truman's Upward Bound Project, McNair works with highly qualified Truman students across all academic majors to provide effective preparation for graduate study toward doctoral degrees. This includes: academic and social support through regular programming and academic counseling; funding for original, faculty-mentored undergraduate research, scholarly and creative projects; summer research internships; travel to conferences and graduate program visits; and graduate application costs.
Truman has been affiliated with the McNair program since 1992, and the University supports more than 30 scholars each year. In its history, 421 students have participated in the program with more than 75% who have completed or are currently enrolled in graduate studies and 26% who have completed a Ph.D. or other terminal degree.
Each year, junior and senior McNair Scholars have the opportunity to receive NASPA-certified peer educator training and to help first-year Truman students participating in the Pre-McNair Fellows Program explore graduate study opportunities.
Applications for the McNair Scholars Program and the Pre-McNair Fellows Program are open now. For more information visit
mcnair.truman.edu
and follow @tsumcnair on
Facebook
and
Instagram
.
A list of all the new grantees can be found
here
.