Fraternity Celebrates 100 Years on Campus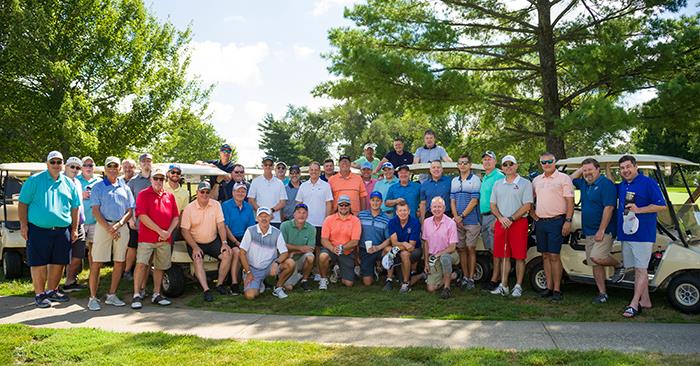 Truman's chapter of Sigma Tau Gamma marked its 100th anniversary with a weekend of festivities, Aug. 26-27.
More than 100 alumni returned to Kirksville in celebration of the historic event, participating in a chapter golf outing and a luncheon at the organization's house on Davis Street. As the fraternity's Beta chapter, the Truman branch is the second-oldest chapter of "Sig Tau" in the country. The fraternity officially turned 100 on July 30 of last year, but the formal celebration was rescheduled due to the pandemic. University President Sue Thomas and Sigma Tau Gamma CEO Buz Barlow Jr. both spoke at the luncheon, with the keynote address provided by Bryan Witherbee ('94).
"Celebrating 100 years is such an accomplishment by any account," said Mike Wilson ('91), president of the Beta chapter alumni association. "Sig Tau is the oldest social fraternity on campus. We are proud of the years, yet also our legacy of involvement and impact with Truman State University and the Kirksville community."
Throughout its history, active members could be found leading student organizations, participating in athletics and the performing arts, and volunteering at campus events. Recent philanthropic efforts have included supporting AM Transitional Housing in Kirksville. Sig Taus have served the University as instructors, administrators, donors and in leadership positions on University boards. Chuck Foudree ('66) chaired Truman's first endowment campaign, Bright Minds, Bright Futures.
"The values and principles that form the foundation of Sigma Tau Gamma and the relationships I was so fortunate to develop during my time at Beta have helped shape me as a person, as a lawyer and now judge," Patrick Horsefield ('95) said. "They are also values and principles that I am passing down to my children, and hopefully someday to my grandchildren."
As a chapter, Beta is one of the most recognized of Sigma Tau Gamma, having received the Most Distinguished Chapter Award a record 13 times. Alumni have led the national organization eight times, and active members have been nominated for the Man of the Year award 22 times with six wins, the most recent in 2011.
Since its inception, the Beta chapter of Sigma Tau Gamma has included more than 2,400 University alumni.